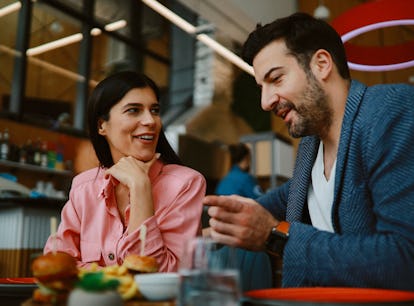 Here's How To Tell If Someone With A Virgo Moon Is Really Into You
Their love language is in the details.
lechatnoir/E+/Getty Images
When it comes to astrological compatibility, your partner's sun sign can tell you a lot about the way they love. But that's just one component of their birth chart — moon signs can reveal just as much (if not more) about a person's love languages and approach to relationships. If your partner is a man with his moon in Virgo, for example, he's likely to be attentive, detail-oriented, and very choosy.
If you're new to astrology, you probably know your sun sign, but your moon sign offers a look into the way you process emotions, the way you think, and your innermost (possibly even subconscious) fears, beliefs, and desires. If someone's rising sign describes what they're like at first glance, their moon sign reflects their deeper self — it's been said the better you know someone on an intimate and emotional level, the more you can recognize the traits associated with their moon sign.
So, what does it mean if your S.O. is an analytical, whip-smart, and organized Virgo at heart? More importantly, what does it mean for your relationship? Here's everything to know about dating someone with this intellectual, thoughtful, and service-focused astrological placement.
Your partner's sun sign can tell you a lot about how they are, but their moon placement reveals how they think, feel, and care for the most important people in their life. And if you're important to someone with a moon in Virgo, it's safe to say you'll know.