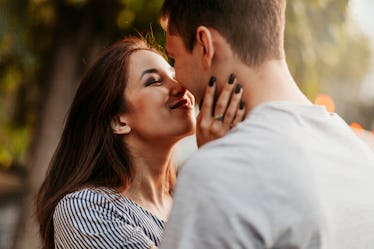 Show Your Partner You Support Them With These 11 Heartfelt Actions
Shutterstock
Great relationships are built in the everyday moments you spend together. Major milestones such as anniversaries and birthdays are exciting in their own right, but it's your small, routine actions that truly show your partner you support them. When life gets stressful, it's important that the two of you feel like a cohesive team. You're there for your SO to lean on during the hard times, and they'll provide that same stability to you.
To do that effectively, you need a real baseline of empathy and trust. And it doesn't take a grand gesture of love to help you get there. "The more we can 'micro bond,' where we engage in small actions that keep us connected and strengthen the connection, the more effective and lasting the bigger bonding moments are," clinical psychologist Dr. Joshua Klapow previously told Elite Daily. In other words, little actions mean a whole lot. It comes down to paying attention to your partner's needs, desires, and feelings so you can respond in the most meaningful way. Oftentimes, the first step is to just listen.
If you want to continue from there and show support for your partner in a tangible way, try one of these simple but meaningful gestures of love.