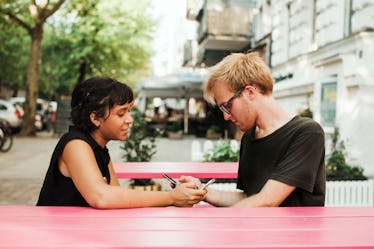 Here's What To Do If Your Partner's The Worst At Communicating
A relationship can't succeed if you can't communicate.
At last, you've found someone with whom you completely click. Sparks are flying between you two, and you feel like this person really, truly gets you. The only problem? Your otherwise wonderful partner is bad at communicating — like, serious boyfriend communication issues. Maybe they're awful at responding to texts in a timely manner. Or, worse yet, maybe they get back to you with nothing more than a dreaded, "k." If this sounds familiar and you're wondering how to communicate with your boyfriend or girlfriend more effectively, you're not alone. While some people have no problem expressing their thoughts and feelings, others (like, many others) have a much harder time processing and articulating their emotions. So, what should you do if, and when, you're dating a bad communicator?
"If your significant other is a bad communicator, then they may have a difficult time understanding what you are trying to convey when you tell them they are a bad communicator," says Dr. Josh Klapow, Ph.D., clinical psychologist and host of The Kurre and Klapow Show. "Communication is not just speaking. It is the ability to understand information, to process non-verbal signals the other person is giving, and then take that all in and speak. So if your partner is not a good communicator, they may also not be a great listener."
If you're not sure how to talk to your boyfriend or girlfriend about, well, how to talk, I've brought in the experts to help. Here are seven tips for navigating a conversation with your partner about their sub-par communication and listening skills.
Overall, keep in mind that poor communication in a relationship isn't ever just one person's fault. Communication, like every aspect of a relationship, requires working together. It's all a team effort — so, go team!
Experts
Dr. Josh Klapow, Ph.D., clinical psychologist and host of The Kurre and Klapow Show
Lori Salkin, SawYouatSinai.com Senior Matchmaker and Dating Coach
This article was originally published on