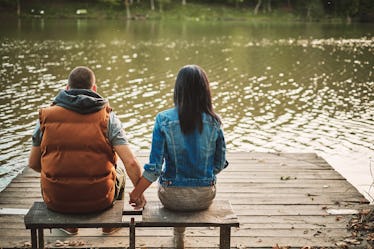 If Your SO Isn't Great At Communicating, Here's How To Make It Work
Shutterstock
One of the most common pieces of relationship advice is to communicate with your partner openly and regularly. Obviously, this can be confusing if you're trying to figure out how to date a bad communicator. I mean, yes, if we were all great communicators who knew exactly what we were feeling at all times and were able to express those feelings perfectly with our partners that would be ideal. But, of course, that's not always the case. Some people really are great communicators and others are just terrible at trying to express their thoughts and feelings to their partners.
If your partner falls into the latter group, you've come to the right place. In a recent Reddit AskWomen thread, ladies shared their best tips for making a relationship work with a partner who isn't necessarily a great communicator. The best part? These women aren't just pulling these tips from thin air. No, they're speaking from personal experience. These six women have all actually been in relationships with bad communicators and they've decided to bless us all with their super helpful advice.
Of course, every relationship is different, and what works for one couple isn't necessarily guaranteed to solve another couple's problem. But hopefully, you'll find some inspiration below for the next time your partner just isn't getting their message across.