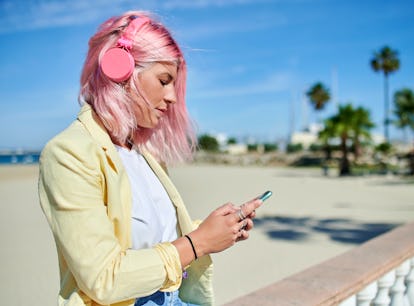 19 Chill Snapchats To Send Your Crush If You Wanna See Them Tonight
Westend61/Westend61/Getty Images
If texting your crush has replaced writing them love letters, perhaps Snapchatting them is the virtual equivalent of sending a postcard. It's a quick picture, sometimes marking a specific location, with only enough room for a short message. If you know how to Snapchat your crush the right way, it can be the perfect mix of flirty and funny. Of course, there are times when you're not sure what you want to say, but you're super sure you want to hang. In that case, knowing some chill Snapchats to send if you want to see your crush tonight can be an easy way to start a conversation.
Since a picture is worth a thousand words, consider a Snapchat worth a million. With captions, stickers, and filters, Snapchat lets you express yourself to your crush visually and verbally. Though, it can be overwhelming at first when you've got so many options, so having some Snapchat flirting examples to take #inspo from will help. You want to play it casual and cool, while also presenting your crush with a hang they cannot refuse. Whether you've got fun ideas like dollar oysters or casually-on-purpose hitting up their favorite bougie coffee spot, there's a snap to send.
I literally just went through all the pics I've sent to my crushes recently, so I could give you 19 Snapchat ideas to send your crushes. If all goes well, pretty soon, you won't be needing to look up how to Snap your crush, but how to Snap your boo instead. You're welcome.
When it comes to Snapchatting your crush, you know the best things to say. If you're feeling like a funny selfie or a food pic will hit the spot, you know what the mood is. Of course, if your crush is already seeing someone or isn't super into going on a date — that's totally their loss. A Snapchat may last 10 seconds, but you'll be a flawless angel forever and ever.
Editor's Note: This story has been updated by Elite Daily Staff.
This article was originally published on