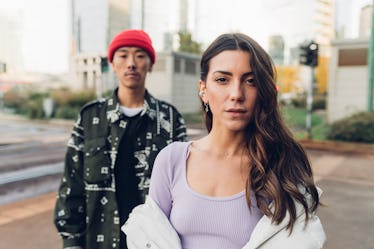 Here's How To Slow Down A Relationship If You Think It's Moving Too Fast
It's OK to take a step back.
Westend61/Westend61/Getty Images
As someone who really prefers taking things slow early on in a relationship, being rushed or pushed is a huge turnoff for me. That kind of pressure freaks me out and makes me lose interest quickly. There have been times when I really liked a person, but I needed them to relax, back off, and let me get there on my own time. In those cases, it was important to know how to slow down a relationship in a way that communicated that I really needed them to pump the brakes, but also that, if they did, we had a much better chance of actually taking things to the next level.
Finding that delicate balance is not always easy, and I definitely haven't always been successful — which is why, if you're currently in a similar situation, expert advice might be helpful. For all you need to know about the subject of pumping the brakes, Elite Daily asked relationship experts for their advice on how to slow things down in a relationship that's moving too quickly for your comfort — because yes, you absolutely have the right to set the pace that feels good to you. Here's what they had to say.
Ultimately, it all comes down to knowing what you need by listening to yourself. If that little voice inside of you starts saying it's uncomfortable with the pace of your relationship, don't ignore it. Do some self-reflecting and find out why you're feeling that way. As Lee says, "If the other person takes it well, that's great information, and if the person shuts down, then they might not be for you."
Experts:
Grace Lee, co-founder of A Good First Date Online
Chris Armstrong, founder of the relationship coaching company Maze of Love
Lori Salkin, matchmaker and dating coach
Megan Murphy, psychotherapist at LGBTQ-inclusive practice Expansive Therapy
Shula Melamed, MA, MPH, relationship coach
This article was originally published on