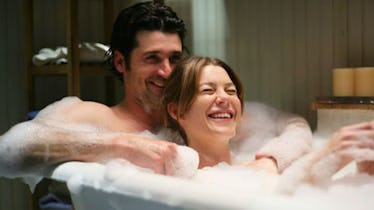 15 Super Hot Grey's Anatomy Sex Scenes That'll Make You Sweat
You'll need a glass of water.
Disney ABC
While there's tons of drama to keep you coming back, Grey's Anatomy is a show you love because of the characters. Whether you started watching it when it first aired in 2005, or you've caught up recently with a mega marathon-watch, by now you're probably totally invested in every relationship at Grey Sloan Memorial Hospital. You're heartbroken whenever couples break up, and it rips your heart open when someone dies. Understandably, you probably much prefer when someone finally finds their "person," and it all leads to some of the best Grey's Anatomy sex scenes.
The characters on Grey's are so enticing, likable, and good-looking, their stories are addicting. You probably return each season to see if the couples you're shipping are going to make it and who's hooking up with whom. While some of your favorite moments from the series may be the sweet interactions between friends like Meredith and Cristina or the intense dramatic situations, you cannot deny that you and your besties who watch the show often reference the hottest Grey's Anatomy sex scenes in your group chat. You probably don't even need to be reminded of these 15 Grey's Anatomy scenes that put the "steamy" in McSteamy. But if you need a little refresher, here are some of the hottest ones. (You're welcome.)
While Grey's Anatomy certainly devastates viewers with every shooting, bomb, and plane crash (seriously, every tragedy you could ever imagine has been on Grey's Anatomy), the sex scenes are a reminder that love can bloom in even the most unexpected places.
This article was originally published on