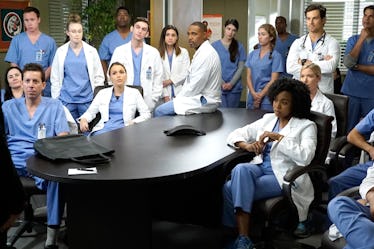 'Grey's Anatomy' Fans Are Rooting For This Potential New Couple After The Season Premiere
ABC
The Season 15 premiere of Grey's Anatomy introduced the show's first gay male surgeon alongside "Ortho God" Linc, but anyone hoping for more insight into the new doc's life was a little out of luck. Alex Landi's Dr. Nico Kim was a man of few words in the two-part premiere, but his smoldering glances in Schmitt's direction told us exactly what he was thinking. Dr. Kim's silent scrutiny definitely made the surgical intern flustered, so will Dr. Kim and Schmitt date on Grey's Anatomy? Fans believe that romance is in store for them.
After news about Landi's casting confirmed Kim's sexuality ahead of the season premiere, viewers grew to expect that a focus on gay men's relationships would emerge in Season 15. Grey's Anatomy has never shied away from exploring gay women's love lives, but with the pair of Callie and Arizona now off the series, replacing their connection with a similar pairing just didn't seem right. In a good move, the premiere certainly didn't disappoint anyone wanting another flirtation between LGBT characters that wasn't just a poor replica of Calzona.
Without a formal introduction between the two, Dr. Kim winked at Schmitt in surgery and eyed him through the window of Bailey's beloved hyperbaric chamber. At the end of the premiere's second episode, Kim bought Schmitt a beer to help him recover from the rough operation in the chamber and refused accepting money for it. Before taking a long chug from his own drink and leaving Schmitt at the bar, Kim promised, "You'll get the next one."
As fans discussed in a Reddit thread about the potential couple, linking Kim to Schmitt was super unexpected. The only romantic plot Schmitt has previously been involved in was when he had a one-night stand with Jo, suggesting that he's bisexual but hasn't really realized it before meeting Kim. Viewers also believed that Kim would end up with Casey Parker, the show's first transgender doctor, but it's clear that we might be seeing Schmitt's sexual awakening this season, thanks to Kim.
Grey's Anatomy showrunner Krista Vernoff hinted at what's next for Schmitt in an interview with The Hollywood Reporter, saying:
We have a beautiful coming out story and romance. It's our favorite thing at every table read. It's vivid and exciting and brand new for our show because it focuses on gay men. Alex Landi is an exciting addition to the cast, for sure, and you have to watch if you want to know more about that story!
Since all of the show's current LGBT characters are in recurring positions rather than full-time spots, Meredith's own search for romance might take precedence over Kim and Schmitt possibly exploring a relationship. No matter how long it may take to flesh out, a romance between two men is new and welcomed territory for Grey's Anatomy to tackle. The "season of love" is definitely in full force, and fans are already rooting for a happy ending between Kim and Schmitt.
Jake Borelli, who plays Schmitt, also gave the storyline a shoutout on Twitter. It looks like he's up for some romance, too!
Here's hoping that these two get the fluffy love story they deserve. Season 15 of Grey's Anatomy continues on Thursday, Oct. 4, at 8 p.m. ET on ABC.