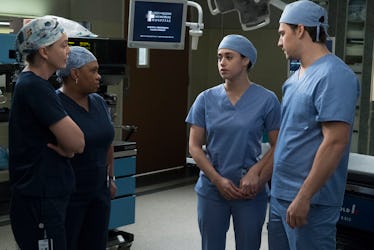 'Grey's Anatomy' Season 15 Will Have A New Groundbreaking Surgeon In Its Cast
ABC
We're less than a month away from the Season 15 premiere of Grey's Anatomy, and while the show has always been a strong platform for LGBT characters to shine, it took a hit when lesbian Arizona Robbins was written out of the series last season. As both she and bisexual character Callie Torres definitely aren't returning to Grey Sloan Memorial any time soon, Grey's Anatomy has now added a groundbreaking character to its roster of doctors. The show just cast its first gay male surgeon, so in honor of this historical move, who is Dr. Nico Kim? Actor Alex Landi will appear as the new character in Season 15.
TVLine reports that Landi has been cast in a recurring role as Nico, and while ABC confirmed his involvement, the network is staying tight-lipped about any specific character details and how long Landi will be on the show. While the most prominent LGBT characters on Grey's Anatomy have been women, there's been very little focus on gay men among the Grey Sloan Memorial staff, let alone one who was a surgeon. We may not know much about Nico, but him being a more unique character definitely inspires a general idea of how his storyline goes. Does he find a new relationship while at the hospital? Is he meant to serve as a means to move along a more medical plot? The possibilities are endless.
As for Landi, the half-Korean, half-Italian actor is fairly new to the world of TV. According to his IMDb page, he appeared as a juror in the CBS series Bull last year and had roles in two reportedly upcoming TV pilots. Luckily for us, Landi's Instagram page also gives us a chance to become more acquainted with, um, his body of work.
Sharing his casting news in an Instagram photo, Landi wrote alongside the announcement, "Very grateful. Thank you to everyone who has made this possible." Grey's Anatomy showrunner Krista Vernoff also addressed the news on Twitter, retweeting TVLine's original report and writing, "Excited doesn't begin to cover it."
If the boss is on board, then you know we're in for a treat with Nico Kim!
In Season 15, Landi joins other Grey's Anatomy newcomer Chris Carmack, who plays a recurring orthopedic surgeon. Meredith's father Thatcher Grey will also return to the show after a long absence due to actor Jeff Perry's role as Cyrus on fellow Shondaland series Scandal. Kim Raver's Teddy also returns to the regular cast and, after revealing her pregnancy in the Season 14 finale, joins a love triangle with Amelia and likely baby daddy Owen. On top of all of this new blood, ABC has billed Season 15 as the year of love, hinting that Meredith is finally ready to begin a serious romantic relationship again.
Although it's hard to predict how pre-existing storylines will fare in Season 15, Landi's role is definitely a step in the right direction when it comes to maintaining a diverse cast. Season 15 of Grey's Anatomy premieres at 8pm.. ET on Thursday, Sept. 27, with a two-hour episode on ABC.