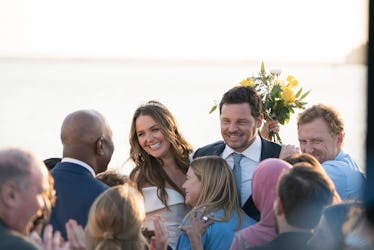 'Grey's Anatomy' Season 15 Has A New Theme & Fans Will Be So Relieved
ABC
Grey's Anatomy is entering new territory next season, what with two of its long-running characters gone and the need to keep things fresh in the show's 15th year. There's no end in sight for Grey's Anatomy, but the show reportedly has a new theme for Season 15, and it definitely suggests that the next batch of episodes will deliver some happily-ever-after vibes. Grey's Anatomy Season 15's theme has been revealed, and after some of the heartbreaking storylines in the show's last year, fans will definitely welcome the new motif with open arms.
According to TVLine, Grey's Anatomy showrunner Krista Vernoff has narrowed down the theme of Season 15 as "The Season of Love." Before you start belting out the synonymous tune from Rent, remind yourself that there's always the chance of Grey's Anatomy ripping the rug out from underneath us. After all, remember when the show suddenly dropped the bombshell that Sarah Drew and Jessica Capshaw were leaving the series?
However, Vernoff rejoining the show last year after a six-year absence actually established the beginning of this romantic tone in Season 14. While the show teased the potential death of April Kepner before she miraculously recovered and married her former fiancé, Season 14 also ended with Jo and Alex's wedding, which is unusually happy for a Grey's Anatomy finale, right?
Vernoff previously announced her mission to bring "more joy and more light and more humor" to the show, and while plenty of secondary characters have found love in the last year, Grey's Anatomy's leading lady may benefit the most from Season 15's mantra. Apart from flirtations with Scott Speedman's Nick Marsh last season and Martin Henderson's Riggs the previous year, Meredith Grey has stayed single since the death of her husband Derek, but she has proven her worth as someone who can flourish on her own. For cast member Camilla Luddington, aka Jo, seeing Meredith embrace her "sexy" side again would be exciting, as she said at Comic-Con:
Maybe she's ready to have more people in her life, and so if that's a romantic love interest, I'm all for it. Plus, I love sexy Meredith... I loved that episode [with Scott Speedman]... [Nick Marsh] was one of the first people that she really had that spark with again.
Luddington also revealed at Comic-Con that the shooting of Season 15 starts this week, with some cast members even filming exterior shots in Seattle rather than Los Angeles. Is Meredith due for her own Sleepless in Seattle scenario when she hits the city streets?
Apart from possibly bringing Meredith another epic love story, Season 15 is bound to explore a returning Teddy's pregnancy, perhaps even realer medical content, and (fingers crossed) no departures of major characters. The show wouldn't kill someone off during a "season of love," would they? Meanwhile, seeing as Ellen Pompeo signed a deal through a possible Season 16, the fifteenth season probably won't be the last, but Pompeo has thought about how the show could end, telling Entertainment Tonight:
Yes, we're starting to think about how you would end a show this iconic. How do you end it? But we're not there yet. We're going to focus on season 15. We just take it one season at a time. The show's a tremendous money maker, let's be honest. It makes a fortune for everybody and everyone wants to keep it going. Now, it's sort of fun. We're in a contest with ourselves. How long can we keep this going and still have this level of quality.
Season 15 of Grey's Anatomy premieres this fall on ABC.