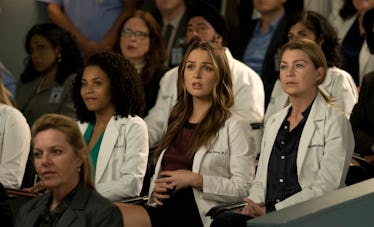 This Classic 'Grey's Anatomy' Character Is Officially Returning For Season 15
ABC
Season 15 of Grey's Anatomy has been teased as the season of love, and while she may end up with a new love interest somewhere along the line, Meredith is receiving a huge blast from the past when the show returns in September. While we can assume there are no more bombshells regarding Meredith's family history, Thatcher Grey will be in Grey's Anatomy Season 15. It's been years since the character last visited the hospital, so what can we expect from this father-daughter reunion?
Meredith's dad Thatcher, played by Jeff Perry, was last seen at Grey Sloan Memorial during Grey's Anatomy Season 7. Although he married and later divorced Meredith's mother Ellis, he wasn't present for most of Meredith's life. He remarried Susan, who gave birth to two daughters, Lexie and Molly. The character's last appearance was a tad anticlimactic — still grieving the death of Susan, Thatcher showed up with abdominal pain and a new 20-something-year-old girlfriend. Feeling herself becoming isolated from his life, Lexie caught on to the way Thatcher previously hurt Meredith and Ellis, asking Meredith to hate him along with her, but Meredith refused to give into such immaturity.
We can only assume that the sisters let Thatcher go off and live a new life, and with Lexie now dead, his return in Season 15 ought to introduce an entirely new dynamic to his relationship with Meredith.
Any further details about Thatcher's return are still under wraps, but if the timing works out, perhaps he'll pop up just in time to meet Meredith's potential new boyfriend. After all, he wasn't around for her teenage dating years, right? With Nashville actor Chris Carmack playing a new doctor in Season 15 and past flirtations possibly reemerging for Meredith, we have a few vague possibilities about who wins her heart. Ellen Pompeo told Entertainment Weekly:
Meredith is gonna date, date, date, date, date, just like my friends who are ready to jump back into the dating world do. What does dating look like today? I think we're almost phasing out the dating apps now. I'm hearing like people are not liking the dating apps anymore. I don't know, I'm just really happy I'm not single in real life. I try to listen to everybody's stories, all my friends and even people that I don't like that much, so we can tell a story that resonates true with people who have been through something like this.
While it's exciting that Meredith is entertaining the idea of love again, all that has happened since she last saw her dad makes you stop and think. Where was Thatcher when Derek died? Has he met his grandkids? Some serious family bonding would have to happen in Season 15 for Thatcher to even have a chance of the audience liking him. Is there room for that among all of these love connections the show is promising?
In the real world, the character's absence likely had to do with Perry's other role in the TGIT block on ABC. He appeared as the power-hungry Cyrus in Scandal, and in a 2012 interview with The Hollywood Reporter, Shonda Rhimes admitted:
We lost the chance to cross over the moment that Jeff Perry became both Meredith's father [and] became Cyrus [on Rhimes' Scandal]. There's something very strange about watching Jeff Perry play Meredith's father at 9 p.m. then at 10 p.m. watch him play Cyrus.
With Scandal now wrapped, it looks like Perry is free for a full season of appearances if that's what's meant to be. Season 15 of Grey's Anatomy premieres on Thursday, Sept. 27, at 8 p.m. ET on ABC.