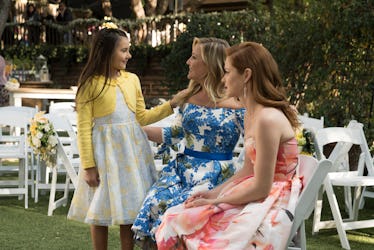 Arizona's Departure From 'Grey's Anatomy' Couldn't Have Been More Perfect
ABC
The most heartbreaking moment this season on Grey's Anatomy didn't happen on-screen. It came with the announcement in March that though ABC had agreed to two more seasons of Grey's Anatomy, not everyone would make it to Season 15. Jessica Capshaw and Sarah Drew, two of the more popular characters, would be leaving at the end of Season 14. But how? Would Capshaw, who plays Dr. Arizona Robbins, be killed off, or merely moved to another city for a possible return? With Drew's character April perhaps set to die, how does Arizona leave Grey's Anatomy?
Capshaw has been with the series for a decade now, and killing her off would seem pretty mean after such a long service. She originally arrived back in Season 5 in a guest role but was then bumped to a recurring role and then series regular in Season 6, right as the show went through its first major turnover.
She was instantly a fan favorite as part of the children's ward and a love interest for orthopedic resident Callie Torres (Sara Ramirez) who left at the end of Season 11. Her presence, as Capshaw put it, as "one of the first members of the LGBTQ community to be represented in a series regular role on network television" has made her character one for the history books.
Her character's LGBTQ status also makes it so creator Shonda Rhimes is perhaps not so eager to off her in the middle of a wedding. (Though she does like offing people in the middle of weddings, it's kind of a Grey's Anatomy standard operating procedure.) But last week's suggestion that Arizona might be opening a clinic of her own in New York City gives the show a door for her to exit through gracefully.
Why New York? Well, it's a bit of a long story. After she and Callie got divorced in Season 11, her ex-wife moved to New York, and a nasty custody battle over their daughter Sofia happened. Though Arizona technically won full custody, she realized this was a cruel thing to do to Callie, and that both of them deserved to be a mom to Sofia. Since then they've been trying to work out a shared custody arrangement, but with one in Seattle and the other in NYC, it's been basically impossible. That's why Arizona has been planning in the last few episodes on moving to New York to make their unconventional family work.
Last week, that plan seemed to suddenly fall into place, when Nicole, Arizona's old mentor, turns up at Seattle Grace. Their relationship is bumpy, but Nicole is there only partly as a patient. The other reason she's there is because she has an HHS grant and wants to start a center for women's health with Arizona. They'd call it the Robbins-Herman Center for Women's Health. Nicole will teach, and Arizona will do fetal surgery. The center can be opened anywhere in the country Arizona wants to do it, and yes, that's including New York.
Meanwhile, things are even more complicated because Callie is single again and Arizona is single. And as Arizona admits, every time Callie texts her, she finds herself smiling, all over again. Could Arizona also be going to New York to find the love of her life all over again? April certainly thinks it's an option. After all, look at her and Matthew.
Maybe fans will find out one day when she returns to the show. Because Arizona walks out of the show alive and well and heading to New York City. It's a perfect ending for her character.