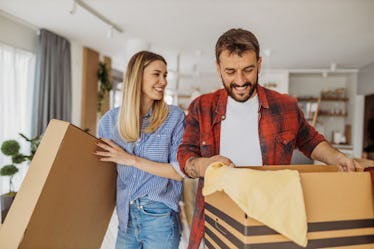 4 Relationship Tips For When You Disagree About Moving In Together
Yes, you can move on together happily without moving in.
milan2099/E+/Getty Images
Moving in with your partner is a pretty big deal — and the timeline matters. In an ideal world, you and your SO would have the same attitude towards moving in together, but that's not always the case. It's pretty common for one person to feel ready to take that step before their partner is. We've all heard it before: "I want to move in with my boyfriend but he's not ready" or "I want to take the next step with my girlfriend but she says it's too soon." No matter who wants what, feeling out of sync with your partner can be disorienting — especially when it comes to such a big decision.
If the two of you happen to disagree on moving in together, first off, don't panic. Not being on the same page about moving in doesn't mean that your relationship is on the rocks or that you two don't love and care deeply for each other. As with all things, you've got to remember to go at your own pace, don't try to move too fast for yourself or your partner, and ensure that you're not forcing them to make any moves (literal or otherwise) that they're not comfortable making.
If watching basically every episode of The Bachelor has taught me anything, it's that you have to do things for "the right reasons" — i.e. not rushing into living together because you feel pressured to do so, or because the thought of splitting rent sounds like a sweet deal.
"It is important not to rush this step and be patient if the other person is not ready when you are," says Nicole Richardson, licensed marriage and family therapist. "It's important not to make this choice based on financial concerns. Doing so can add to a feeling of being trapped if things get rocky."
If you and your SO have recently stumbled into a disagreement about whether or not to move in together, here are four steps to take that'll help your relationship weather this little storm, as told by relationship pros.
Above all else: Don't worry. If you two are treating the situation (and, more importantly, one another) with care and love, you're going to be just fine. Roommates or not.
Experts:
Nicole Richardson, licensed marriage and family therapist
Monica Parikh, dating and relationship coach at the School of Love NYC
Irene Fehr, intimacy and sexuality coach
This article was originally published on