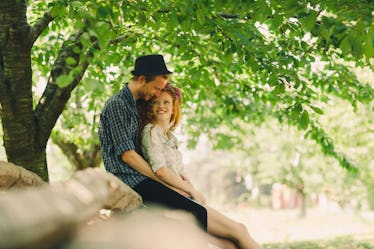 Here's Why Talking About Feelings In Your Relationship Is So Important
Sometimes it seems like all I do is talk to my partner about my feelings. "It makes me feel good when you say this or do that. It hurts my feelings when you talk to me this way or forget to do that." Our feelings are ever-present in the relationship because it's how we connect express ourselves when our boundaries have been crossed, without going down an accusatory, defensive rabbit hole. But we weren't always good at expressing ourselves, or understanding why talking about your feelings in relationships is important in the first place. It took a lot of trial-and-error and plenty of arguments to figure it out.
When it comes to relationships, Connell Barrett, executive dating coach and founder of Dating Transformation says speaking honestly about your emotions is a crucial part of forging a healthy, long lasting bond with your partner. "Open, honest expression of your feelings is a bedrock of a strong, romantic relationship," he tells Elite Daily. But what if you're worried that, by opening up, you'll make yourself vulnerable or place demands on your partner? Barrett, explains that's actually the entire point. Here's why he says it's time to start talking about your feelings with your partner. Take notes.