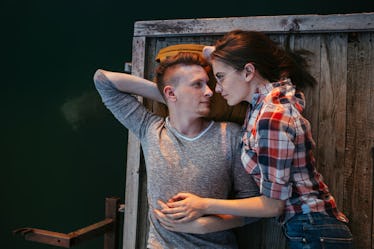 5 Awkward Convos Every Couple Needs To Have, Because You'll Both Benefit In The Long Run
A huge part of committed relationships is being able to have unpleasant conversations. As humans, we're usually naturally inclined to seek out comfort and avoid discomfort, and the same is true when it comes to communication. However, this avoidance tendency can sometimes lead to trouble. I hate to break it to you, but there are actually a bunch of awkward conversations every couple needs to have. While they might not be the most fun, talking about your expectations for the present and future as it relates to your relationship is the best way to ensure that you and your partner are on the same page.
At the end of the day, if you can see long-term potential with someone, eventually you're going to need a strategy to work through complicated issues. Learning to talk about things, express conflicting opinions on sensitive issues, and ultimately reach compromises that work for the both of you can make all the difference. Of course, you don't have to talk about everything at once, but if you've been together for a while and realize that there are things you haven't talked about with your partner, then bring them up. It's so much better to know the reality of where you both stand on something than to simply assume.