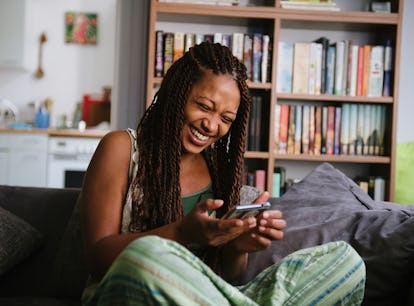 Here Are 7 Ways To Prank Your Partner Over Text On April Fools' Day
*Winston Bishop has entered the chat*
Love it or hate it, April Fools' Day exists. If your favorite people are like Winston in New Girl (a.k.a., total pranksters), they'll probably pull elaborate pranks on this spring day that they've been planning for months. They may switch the sugar and salt in your kitchen, or hide rubber spiders around your room since they know you're not a fan of bugs. To get in on the fun, you can pull off one of these April Fools' pranks for your boyfriend over text that'll get him good.
A successful prank typically requires some acting skills, and while you don't need to go full Meryl Streep (she always understands the assignment), it's hard for most of us to not smirk in the moment. Thinking about the other person's potential reaction can make us break out in laughter or be awkward and unnatural around the person we love — which totally gives away the looming prank. That's why these pranks for boyfriends over text are the ultimate hack for April Fools' Day. Not only are they super convenient and cheap, but they also help manage your mischief.
Now, some of these April Fools' Day pranks for your boyfriend over text are more suited for a fellow prank-lover. Others are made for the partner who might be weary about the day and all the (well-meaning) jokes to come. Before you tap "send," make sure you think about your audience and the type of prank they'd appreciate. Ultimately, you want your significant other to think the prank is silly, clever, and something to smile about, and these text ideas will likely do the trick.
Even if your partner doesn't fall for these April Fools' Day jokes, you're still likely going to share a laugh over your attempt. Good luck, and happy pranking!
Editor's Note: This story has been updated by Elite Daily Staff.
This article was originally published on