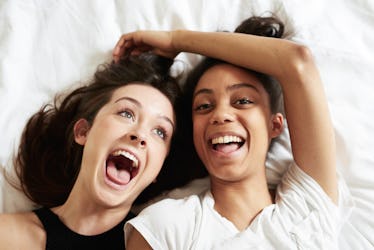 7 April Fool's Pranks To Play On Your Partner That Won't Cause A Nasty Breakup
With Valentine's Day out of the way, it's time to focus on what's really important in relationships: I'm talking about coming up with April Fools' pranks for your boyfriend or girlfriend so that you can ruin the day of the person you love the most. Fun!
If your Valentine's Day gift to them was kind of boring and not at all original, you finally have a chance to redeem yourself by showing them just how creative you really are — at their expense, of course.
I wish I could say I've been brave enough to try some of these but the one time I actually planned an April Fools' Day prank for my partner, I didn't have the guts to go through with it. I bought enough sticky notes to last an entire school year but I didn't plan on taking them to class. No, my real goal was to cover my partner's beloved truck in neon pink sticky notes. A gem of an idea, right?
Ultimately, I backed down because he didn't have that great a sense of humor and I figured it would just end badly. The lesson, really, is to choose your pranks (and your partners) wisely. Here are a few pranks I'm hoping to try in my next relationship.