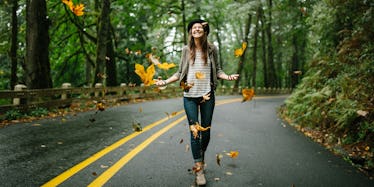 6 'Lazy Girl' Fashion Looks You Can Only Get Away With In The Fall
Ian Pratt
Fall is the time you can break away from the rules of fashion and still get away with it. And you can make your own statement this fall by not only being basic, but by being lazy girl basic.
Sometimes, making no effort at all makes you look more flawless than if you were to spend hours deciding on the perfect outfit. As the saying goes, keep it simple, stupid.
Simple is unique, and the simple, lazy girl look is the perfect segue into fall fashion.
Here are six ways you can get away with the lazy girl look this season:
1. Tank Top, Gray Sweater, Ripped Jeans, Uggs
This is the ultimate starter pack to being basic.
And there's nothing wrong with being basic because hey, at least you're comfy. You can pretty much get away with wearing this anywhere, including when you're at the grocery store, when you're out at dinner and even when you're on a Friday night date.
2. Plaid Shirts, Black Tights, White Converse
Have you met the girl next door? Well, this is her look.
It's just the perfect amount of not trying hard at all, yet it still fits into the look of fall. If you're wearing anything plaid, you can automatically get away with it.
3. The Minimalist Wardrobe
Basically, any staple black and white clothing items are essential to your wardrobe.
Black entails a timeless statement that will never go out of style. You can throw on a black top, sweater or dress, and it looks like you care about your image. But, you won't seem like you're trying hard to please people.
4. Let's Get Lazier With Greys
Any large or oversized grey sweater-type thing with black pants and grey tennis shoes makes you set and ready to fit the lazy girl style. You can even throw in a beanie and sweater to finish off this look.
This is a classic street look that will allow you to blend in with the crowd.
5. Who Could Forget The Scarf?
Scarves are basically the icing on top of the lazy girl cake. You can dress up any lazy girl look with this item, and it'll either complete the professional look you're going for or help you achieve the comfy effortless vibe you're trying to give off.
It is the perfect accessory to any outfit, especially if you're on the go and can't decide what to wear.
6. It's All About The Hair
Messy hair, don't care. The less makeup you have on, the more natural you appeal and the more beautiful you look in your own skin. Messy 'dos are always in.
You can always do a messy bun and add some hairspray to keep it in its "perfectly messy" place. This bun is genius because it makes you appear as if you're not trying at all, even though it probably took you at least five tries to get it just messy enough.
French braids and fishtail braids are even cuter. A messy braided ponytail, running down one side of your face, will look perfect with any of the outfits mentioned above.
Fall is about looking effortlessly flawless. You can get away with any of these lazy girl looks because they're all looks that you have in your wardrobe. Also, they're essentially timeless.
So, stop wasting time trying to find the perfect balance of summer and fall clothing mixes, stop wishing you didn't have to wear boots and stop assuming people are going to judge you for leaving your house looking not so "put together."
They won't judge you; they'll embrace you. We love you, fall, and we love you, basic, lazy girls.