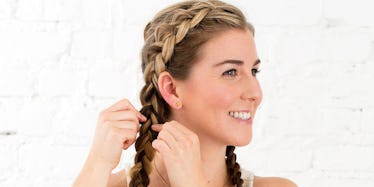 3 Ways To Wear Your Favorite Festival Braided Hairstyles To The Office
Brit + Co
The first weekend of Coachella signifies the true moment when we know festival season has officially kicked off.
We've already got you up to speed on Coachella street style, so now it's time to take this festival inspo and apply it IRL. If you're not attending Coachella but love the event's vibe, wearing festival-inspired braided hairstyles to the office is a fun way to get in the spirit from afar.
Here are three super simple, funky braids you can master in a matter of minutes and rock at your nine-to-five.
Braid 1: The Triple Crown
This triple-sectioned, inside-out messy French braid is streamlined into three mini buns in the back.
This look will have you channeling your inner Coachella gal in a matter of minutes. Here's how to create the triple crown braid.
Step 1: Section It Out
To help keep your sections clean, divide your hair into three separate sections. Leave the first section you will braid untied.
Step 2: Style An Inside-Out French Braid
Start on one side of your head and style an inside-out French braid. Be sure to slightly widen your braids by gently tugging on each strand.
Step 3: Repeat, Repeat
Continue to style inside-out French braids into the remaining sections, and secure with a small elastic.
Step 4: Make Mini Braid Buns
Wrap up the end of each braid into a mini bun and pin it in place at the nape of your neck. This creates a textured chignon effect in the back that's so pretty.
Braid 2: Keep It Old School
With braids being such a trend these days, revamped versions of classic styles are resurfacing. We wanted to remind you of the old school, gorgeous French braid.
Step 1: Bump It Up
Get on board the backcombing train and build serious height into your locks. The added volume and texture will help to set the base for this super simple look.
Step 2: Smooth It Down
Let's not get carried away. Gently take the ends of your comb and smooth the outer layer of your hair. Be careful not to flatten the work you just did, though.
Step 3: Frenchie, Frenchie
French braid your hair until you get to the ends. Secure it with an elastic.
Step 4: Tuck And Pin
Now, tuck the tied end of your hair inside your French braid. Pin it in place.
Braid 3: Fishtail Crown
The perfect braid for short haired gals (like me) is a messy fishtail. This baby frames your face with just two bobby pins to hold it in all in place.
Step 1: Create Your First Fishtail
Style a fishtail braid on one side of your head and use a small elastic to secure it. Then, tuck it behind your ear and separate the braid by gently tugging on the strands of hair to make it look loose and unkempt.
Step 2: Same Fishtail, Different Side
Repeat the same fishtail braid on the other side of your hair.
Step 3: Pin in Place
Use a bobby pin on each side of your head to pin the braids in place. You can pin anywhere that makes your silhouette look appealing to you.
Now turn up your playlist, get your peace fingers ready and strut your stuff (and your inner flower child) into work.