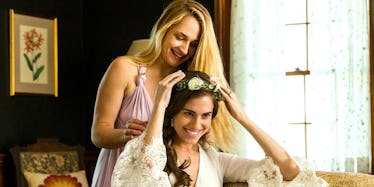 What You (And Your Wallet) Should Expect At Every Stage Of Being A Bridesmaid
HBO
So, your friend calls you up with news. She's getting married and wants you to be one of her bridesmaids. Super exciting, right? Of course, you say yes right away.
You probably already knew, as you saw the sparkling rock on her perfectly manicured hand while scrolling through your Instagram feed. Still, it's not every day your closest friend ties the knot.
Right off the bat, she has an image of her dream wedding in her head, probably concocted the first time she watched "Cinderella" at age 4. She knows exactly how her day will go, down to the monogrammed napkins with which guests will hold their pigs in a blanket during the cocktail hour.
While the months leading up to her wedding day will be filled with excitement, they'll also be expensive for both of you. According to a 2013 American Express survey, bridesmaids spend an average of $577 throughout the entire wedding process.
There's also the social aspect. Every stage of the planning process includes etiquette expectations from you as a member of the bridal party. Can you say her dress is unflattering? Can you down tequila shots before the ceremony?
If you're confused, don't fret. I've got you covered at every stage of the wedding process, from cost-cutting initiatives to bridesmaid duties.
Stage 1: The "Will You Be My Bridesmaid?" Convo
What's expected of your wallet: At this stage, it's important to be honest about your budget and what you're willing to pay for certain aspects of the wedding, particularly the dress and the bachelorette party. Don't pull out your iPhone calculator and start crunching numbers in the middle of the joyous occasion, but you should be asking about her expectations of you and the ballpark number she has in her head.
Is she thinking of a destination bachelorette party? That's important, because you'll have to factor in plane tickets, hotel accommodation and time off work. Does she want you to buy your dress at the same boutique she's buying her bridal gown? Most boutique bridal shops have pricey dresses, about $250 and up.
Stage 2: Buying The Bridesmaid's Dress
For many bridesmaids, this area can be anxiety-inducing because every girl may be required to wear the same dress, despite having totally different body types. Your friend with big boobs will require way more top-support than your smaller-chested friend.
If your bride-to-be seems stressed over the issue, suggest convertible dresses, which can be customized to fit each bridesmaid's body type. Alternately, suggest you all buy different dresses in the same color. Every girl will inevitably have an opinion, so make sure things don't get heated. This process is supposed to be fun --  just pour some champagne and go with it.
What your wallet should expect: The average price of a bridesmaid's dress is $150, according to the financial site Mint. Consider shopping around before finalizing purchases. I recently spent $115 for a bridesmaid's dress, but a friend of mine revealed she paid over $200 on a similar design. I've even known bridesmaids to drop nearly $400.
Tell your bride exactly how much your budget allows you to spend. Don't forget that you may also have to get the dress altered, which could cost $50 or more, depending on what you want done.
Pro tip: If the dresses are strapless, pick a style with a corseted back so you won't have to spend too much on alterations.
Stage 3: The Bachelorette Party
The earlier you receive this info, the better, as you'll need to take time off from work and start saving. Even if you're planning a simple night out in the city, it's still important to make sure everyone is on the same page.
Remember, this is the "last time" your bride will be able to cut loose with her girls before she's a married woman, so be sure to watch over her as she gets wild, like a drunken guardian angel. Hold her hair while she pukes and make sure she doesn't go home with some sleazy rando.
What your wallet should expect: You should be prepared to cover all your personal expenses, including the flight and hotel if it's an out-of-town event. This could run you at least $600 bucks, depending on the destination, so don't hesitate to decline if you can't swing it.
Weddings are expensive and, even if she's your bestie, you have to spend within your means. If you can't make the party, treat your bride to a brunch or night out bar-hopping when she gets back. A bride is usually within her own intense wedding world and can easily forget you have schedules and budgets of your own.
While you're not technically required to do so, you might want to chip in with the other girls and buy some phallic-shaped items.
Stage 4: The Bridal Shower
If it's a surprise, ask the bride to pick out an outfit for the day ahead of time and bring it with you to the shower venue. After the initial shock, she can change into her dream bridal shower look.
What your wallet should expect: A sensible bride will include items ranging all price points on her registry. Buy what you can afford. Don't feel the need to splurge just because you're a bridesmaid.
If you're helping to plan the event, you may be asked to chip in for the venue, cake and decorations. Again, be honest with your bride if this isn't something you can afford. It is her party at the end of the day, and she should be prepared to pay for the majority of the event if it comes down to it.
Suggest throwing the party at someone's house and DIY as much as you can. Similarly, opt for Trader Joe's flowers instead of heading to a flower shop.
Stage 5: The Wedding
Try your best to smile throughout the whole day, even when you've taken what seems like 10,000 photos. Hold her train when she needs to pee and let her know when her lipstick has faded. As long as you don't throw up in front of her great aunt, you're pretty much golden.
What your wallet should expect: Hair stylists and makeup artists will usually give group deals for a wedding party. Makeup can cost anywhere from $35-$100 and hair will run you an average of $75-$200. If you find a better deal, tell your bride your alternate plans as soon as possible. The bride usually covers flowers and transportation.
Although weddings are stressful, the planning process is an opportunity to spend quality time with your friends. Look at the wedding as a chance to get together, drink wine and create magical wedding Pinterest boards.