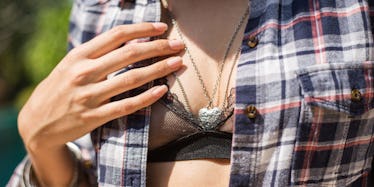 5 Perfect Outfits For Every Situation If You're A Girl With Small Boobs
Jojo Jovanovic
I've had small boobs my whole life.
Growing up, I hated my body. I was an awkward teen just like everyone else, except while everyone else's breasts eventually grew into voluptuous beauties, mine stayed stubbornly stagnant at a 32A. Nineteen-year-old Sheena's boobs looked the same as 13-year-old Sheena's boobs, and I was not happy.
I'm still not crazy about what God gave me, but I'm getting closer to embracing it. I will say, though, that I've truly come to embrace my small boobies. I shop for bralettes at Forever 21, and I even go braless six out of seven days a week. Going braless is fantastic. You've got to let those things breathe, you know? I mean, would you like to stay cooped up in your apartment all day? No. And your boobs don't like to stay cooped up in anything all day, either. Trust me, I asked them. I'm the Small Boob Whisperer.
The way I see it is this: If you can afford to wear a bralette or go braless, why wouldn't you? And why not take advantage of the great outfits you can create while wearing them?
For your personal convenience, I've put together outfits that look great with small boobs, according to whichever fabulous occasion you plan on attending.
For just another day at work:
I'm absolutely obsessed with tuxedo dresses. I own one and I get a whole lot of wear out of it. Throw one on over a black camisole -- oh yeah, I practically live in camis, too, because they've got those nifty, built-in bras -- and pair with black skinnies.
Pro-tip: with small breasts, it's nice to draw attention to that feminine neckline and collarbone. I often like to throw my hair up in a bun and wear long, dangly earrings. Oddly enough, I have no trouble pulling. I get ALL the boys, just in case you were wondering.
Forever New Tamsin Tuxedo Dress, $87
For hitting up the bar:
Two words, my friends: crop tops. Now, anyone can wear crop tops -- they don't discriminate -- but you can wear the hell out of them. Being small on top is great because the top falls seamlessly over the boobs and right onto the stomach without any awkward lumps breaking up the flow of the shirt.
Accentuate those hips with a pair of high-waisted denim, and finish off the look by belting around the waist. Every small-breasted girl (if not every girl!) should own a trustworthy pair of high-waisted denim. My personal favorite are these J Brand jeans. Accessorize with a stylish backpack; it gives the aesthetic more of a '90s Clueless feel.
The best part of this look? It'll look like you barely tried, but you'll still look chic AF.
Zara crop top, $20 J-Brand Maria high-rise skinny jeans, $230
For hitting up the club:
When I say "ban," you say "deau!" Bandeau! My fellow small-breasted friends, you can rock a bandeau without feeling unsupported in the chest or showing too much. You can thank the stars (or your mama?) because you're amongst the only slew of girls that can wear bandeaus as shirts, and pull it off like it's no thang.
Guess what else you can rock over the bandeau? A tight-fitted, cropped blazer. You can leave it unbuttoned or, if you're feeling conservative (or cold), button it from top to bottom without feeling suffocated. The beauty in this is you can forgo the long coat or jacket, making it easy to club-hop because you don't have to deal with coat checks.
For club-wear, I usually opt for all black. Add a pop of color with a funky blazer to spice it up.
For straight-up chilling with your friends (or partner):
Your girlfriends DGAF what you look like, and your boo probably doesn't, either, so here is where you can really indulge in the beauty of a camisole with a built-in bra.
Sometimes, if I'm super self-conscious, I'll wear a light scarf over my top half, just so lefty and righty aren't saying "hello" to my guests every time a breeze comes through the window. This is your super ~chill~ outfit, so don't forget the leggings (yes, it's totally acceptable to wear leggings as pants). You can thank me later for helping you maximize your comfort.
For your daytime fancy function:
Here is where you should be going full-on princess just because you can. Take advantage of the fact that you don't have to wear strapless bras, and opt for a strapless, fun, flirty dress for that bridal shower, garden party or what-have-you. And if really you want that extra bit of added support, wear sticky tapes over the nips.
I love a good strapless tulle. You're young, small-breasted and beautiful, so wear it now before it gets weird. Also, I can't stress enough how important statement jewelry pieces are for you girls; the right jewelry can really brighten up that cute little chest. Chokers are in right now (IMO, they're practically timeless), so opt for a piece that'll go with nearly everything, like this simple gold piece with turquoise.
Standing Out Dimensional Crochet Tulle Dress In Blush, $36 Jules Smith Neige Choker Necklace, $75
Go forth and slay, my tiny-breasted chickadees.