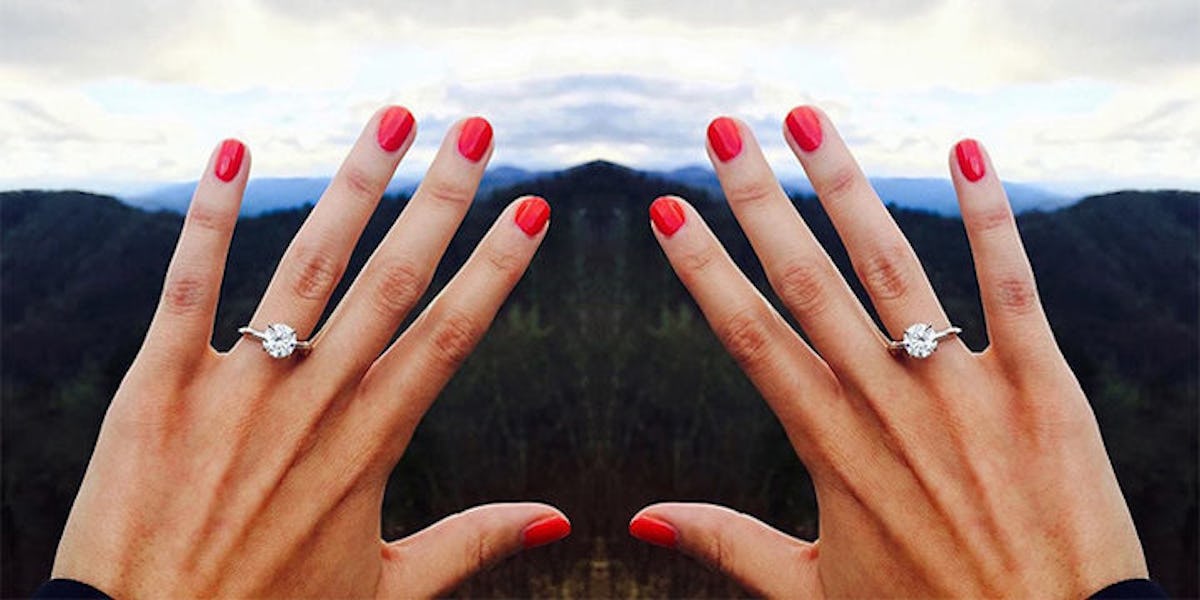 These 18 Overdone Poses Prove Engagement Ring Pictures Are The Worst (Photos)
So, your baby boo just got down on one knee. He popped open a little velvet box and asked you to marry him.
You said "yes" because true love conquers all or some bullsh*t like that.
Next order of business? Taking that critical engagement Instagram photo.
Calling your closest friends and family to let them know the good news is so, you know, 2003.
Please, do me feed a favor and avoid posting one of the following.
1. You're not Cinderella. Take Prince Charming and step away from the castle.
2. Pretty sure the ring is supposed to face the other way, but you do you.
3. Oh, you got engaged? Sorry, I'm more into that cupcake.
4. That's not creepy. No, not at all.
5. If that's a Pumpkin Spice Latte, you've just "out-basiced" yourself.
6. Nothing says "romance" like a screenshot of your engagement Snapchat.
7. Congrats! He seems thrilled.
8. Sick mani. I mean, lovely ring!
9. That book was totally an accident, huh?
10. You're not engaged until you find a mug that says so.
11. Pugsy doesn't know what he got himself into.
12. "Yeah, babe, you totally fit in the basket! It's so safe!"
13. Step one, say yes. Step two, get drunk.
14. Next, she drop kicks her ring into the canyon.
15. Doesn't Fido have any say in this?
16. If that's how you really feel, you could've just said "no."
17. Nothing starts off a happy marriage like a few broken bones.
18. Seriously, leave the dogs out of it.