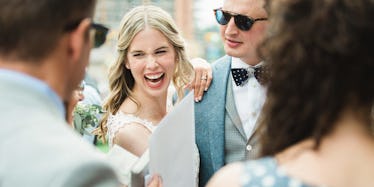 It's Official: You're Going To Spend An Insane Amount On Weddings This Year
By your mid-20s, the spring and summer seasons mean attending weddings of friends, cousins and family members you've probably only met once. The invites roll in, and you're forced to rethink that summer Euro trip in favor of covering your plate at yet another celebration.
Don't get me wrong, I love weddings. However, there's no denying the amount of money that involves sharing these milestone moments with your engaged loved ones. New data from American Express shows Americans will attend about three weddings in 2016. Out of a sample size of 1,803 people, the company found the average wedding cost per couple is $703, up five percent from last year.
If that sounds steep, think again. Millennials actually spend even more on weddings, around $893. If your bestie asks you to be a bridesmaid, that number will jump to $928 -- just add up factors like flights ($205), bridesmaid's dresses ($166) and child or pet care costs ($69).
Jed Scala, senior vice president of consumer lending at American Express, explains in the survey that, "while being part of a wedding party is an honor, the pre-events and day-of costs can add up."
"On the upside, the big day itself can provide guests with a reason to indulge, enjoy a night out and even travel if it's a destination wedding," Scala says.
If you think being a wedding guest is expensive, imagine what's it's like for the bride and groom. This year's trend reports sees over half of Americans (53 percent) paying for weddings without help from their parents, placing majority of the costs on credit cards.
If you've just gotten engaged and are starting to hyperventilate, don't fret. Many couples have found ways to cut costs, with 55 percent opting for DIY touches like handmade wedding albums, centerpieces and favors.
In the end, weddings are about choosing to celebrate the love two people share. Just be sure to budget way ahead of time.