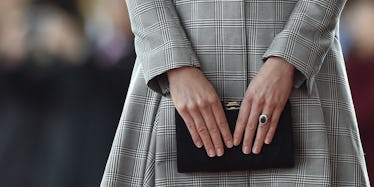 15 Non-Traditional Engagement Rings That Are Way Better Than Diamonds
REUTERS/Toby Melville
So, your bae's dropping hints about putting a ring on it.
Most brides-to-be spend an extensive amount of time on Pinterest, figuring out how to make their big days unique. They opt for barns over stuffy banquet halls and mason jars instead of floral centerpieces. Pink gowns are now chosen over virginal white and grooms trade in sensible loafers for Converse All Stars.
While we're doing away with tradition in favor of unique decor, why not abandon old-fashioned diamonds for a gemstone that'll ensure your ring finger sets the tone for your off-beat wedding?
When you think about it, choosing an ornate stone over a plain Jane diamond makes perfect sense. Women aren't cookie-cutter versions of one another, coordinating fingers to fit some archaic diamond-only tradition.
Aside from the insane amount of money (an average of $4,000) you'd be saving by not going with diamonds, and the ethical concerns ("Blood Diamond" is about more than Leo's accent), each bride is unique and deserves a staple piece of jewelry that vibes with her personality.
Is she fiery like a ruby? Romantic like a pearl? Maybe she's whimsical and effervescent like an opal or moonstone. So please, scroll through for some much-needed inspiration. There are plenty of stones in the sea (um, earth).
Let's discuss this stunning Moissanite stone that actually mimics a real diamond in color, weight and clarity.
Check it out here.
This radiant solid yellow sapphire is sure to blind your coworkers.
Check it out here.
Who needs a 2-carat rock when you have this mesmerizing opal stone to show off?
Check it out here.
Channel Helen of Troy with this Grecian-inspired tanzanite stunner.
Check it out here.
Would you rather have a tiny diamond that costs a fortune, or adorn your finger with this aquamarine beauty?
Check it out here.
My vintage-obsessed ladies, I dare you not to fall in love with this timeless emerald ring surrounded by shiny opals.
Check it out here.
This "Heart of the Ocean"-like topaz charmer is perfect for brides who once dreamed of marrying Leo DiCaprio.
Check it out here.
This sunstone from Oregon is perfect for the bride who'd never be caught dead with a Tiffany setting.
Check it out here.
For the classic bride who still wants a hint of tradition, a pearl in a delicate rose gold band is the way to go.
Check it out here.
You'll know your love was written in the stars when your boo gives you this moonstone and blue sapphire sparkler.
Check it out here.
You don't have to be a Capricorn to appreciate this vintage garnet rock surrounded by pretty opals.
Check it out here.
This royally lovely purple amethyst will help you channel your inner princess.
Check it out here.
A blush-pink morganite stone will bring out the romantic side of even the most avant-garde bride.
Check it out here.
This Victorian-style hessonite number is so original, it's bound to be a conversation starter.
Check it out here.
A peridot gemstone will ensure you'll be the envy of every party.
Check it out here.