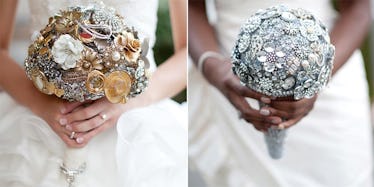 Brooch Bouquets Are The Sparkly Wedding Trend That's Way Cooler Than Flowers
Chalk it up to my Capricorn nature, but I'm sentimental at heart.
I love making scrapbooks after big vacations and snapping Polaroid pictures during major events in my life, like a graduation or milestone birthday.
When it comes to weddings, I'm all about incorporating as many family heirlooms and personal keepsakes as possible. For instance, my boyfriend is Irish and I'm Israeli, so there will be a decent amount of shamrock and hamsa charms sewn into my dress and used in my jewelry.
Then, when I noticed brides walking down the aisle in bouquets not made of typical flowers, but of ornate brooches representing all the little things that made them unique, I was sold.
When you think about it, brooch bouquets are the perfect accessory to complement your personality as you walk down the aisle. They can be made up of meaningful jewelry passed down from your family, so you can keep them close to you as you say "I do." And, unlike flowers, they can be kept in mint condition and preserved for generations.
Above all, though, they're blindingly sparkly and will ensure your bridal outfit is as fabulous as you are.
Who wouldn't want to hold this disco ball of beauty down the aisle?
Brooch bouquets are pretty easy to DIY. All you need is wire armature and a lot of patience.
These glittering beauties make a great "something blue."
Jazz your bouquet up with buttons, sequins, ribbons and glitter. Literally anything goes when it comes to these babies.
Or, match your shoes to your brooches for a princess-worthy glistening look.
Get your squad of bridesmaids involved by letting them design their own unique bouquet.
This is your time to shine, so get dramatic with your brooch design.
Above all, make sure your bouquet represents who you are. So, what would yours look like?