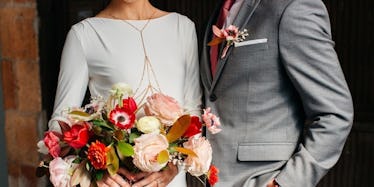 15 Non-Traditional Wedding Dresses That Are So Much Prettier Than Ball Gowns
Up until age 16, I was obsessed with Cinderella's wedding gown. It had everything: puffy sleeves, cinched-in waist and a glittery, puffy skirt.
Then, I realized the dress -- though the movie came out in the '50s -- reminded me of Princess Diana's giant '80s behemoth of a wedding gown and I changed my mind.
Personally, I'd never choose a big, extravagant dress for my big day. Those things are heavy and take an army to put on. I don't want to have to pee, only to spend 20 minutes in the bathroom with three bridesmaids trying to figure out how to strap me back in.
Brides nowadays want their wedding to be, well, not like their mother's lavish affair.
Frequently, I attend weddings where brides have traded large princess gowns for sweet bohemian sheath dresses featuring lots of lace and embroidery. They're not only beautiful and romantic, but also trendy.
So scroll on, my non-traditional brides. You don't have to opt for a ball gown to look like a modern day Cinderella.
1. This fitted gold gown will wow your guests.
2. Forget about virginal white and opt for an eye-catching emerald number.
3. The floral applique on this back will transform you into a modern day princess.
4. Who needs a giant ball gown when you can slip on a sleek pantsuit, instead?
5. The beaded embellishment on this sheath gown is so unique, you won't need layers of tulle.
6. I love this white-on-top, blue-on-bottom combo.
7. Or, go for an embroidered crop top and white tutu.
8. Let's just sprinkle another modern gold dress in there. A girl needs options.
9. "Downton Abbey" fans will swoon over this lace, vintage-inspired neckline.
10. Crop-top wedding gowns get a bad rap. This one shows you can be classy and trendy.
11. This chic midi dress flawlessly mixes traditional with modern.
12. Why not forget the gown altogether and go for a bohemian top and skirt instead?
13. Or, try some sleek, tailored pants on for size.
14. If Sarah Jessica Parker can wear black down the aisle, so can you.
15. Nothing says bridal fashionista like a fur coat and wide-brimmed hat.