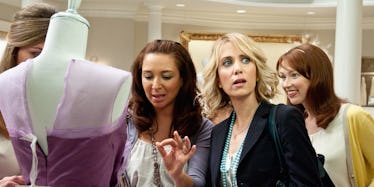 12 Non-Traditional Bridesmaid Dresses That Aren't Super Basic
Universal Pictures
The minute you turn 26, every girl your age -- each of whom probably once shared an intimate frat party puking session with you -- suddenly decides to get engaged. One by one, the invites start pouring in and, if you're lucky, you'll be asked to be a bridesmaid.
Contrary to popular opinion, being a bridesmaid is actually very fun. You get to spend loads of time with your friend, helping pick everything from her honeymoon destination to the floral arrangements. One of the biggest tasks, however, is choosing the bridesmaid dresses. I've only been a bridesmaid once, but I know the process can be stress-inducing to some.
When browsing, it's important to understand a few key factors. Each bridesmaid brings a different build, body shape and breast size into the mix. Similarly, every girl will have a different opinion about which silhouette and fabric looks the best. Emotions can run high, and it'll take everything in you not to clock the bride's opinionated cousin.
Due to the tense, emotional climate, many bridesmaids choose simple strapless or one shoulder dresses in chiffon and silk fabrics that flatter the bust and cinch at the waist.
While these styles are flattering and pretty, for bridesmaids who want their dresses to be a touch more original, opt for frocks with beading and ornate prints. They'll flatter each lady and make the bride happy, too.
So scroll on, my non-traditional bridesmaids. These dresses are sure to be attention grabbing.
1. This midi floral number is so flattering, every bridesmaid will gush over it.
Try this: Extreme High Low Printed Midi Dress, Chi Chi London, $105
2. A yellow maxi will make you look like rays of sunshine.
Try this: Chevron Colourblock Pleated Maxi Dress, ASOS, $89
3. This crochet and tulle dream is perfect for a fall wedding.
Try this: Cleo Top & Louise Skirt, BHLDN, $80-$220
4. A customizable emerald gown will go with any woodsy wedding.
Try this: Infinity bridesmaid dress, Vicente Dresses, $48
5. This rose gold frock will enhance your bust and keep you sparkling all night long.
Try this: Sequin Bridesmaid Dress, Star Custom Dress, $120
6. Wrap dresses are flattering on every body type, and the lightweight fabric will keep you sweat free.
Try this: Winslow Dress, Reformation, $268
7. You'll shine as you walk down the aisle in this embroidered dress.
Try this: Embellished Maxi Dress, Topshop, $300
8. This tropical dress fits any beach wedding.
Try this: Bardot Fishtail Maxi, ASOS, $137
9. Red velvet will heat up a winter ceremony.
Try this: Infinity dress, Valdenize, $127
10. Bridesmaids who love backless dresses will go nuts for this sweet fuchsia design.
Try this:  Knee length bridesmaid dress, Jennifer Go Bridal, $200
11. For the edgy bridesmaids out there, opt for this striking lace look.
Right as Reign Beige and Black Lace Maxi Dress, Bariano, $322
12. For trendy bridal parties, only an illusion gown will do.
Crop Top Lace Mini Dress, ASOS, $73