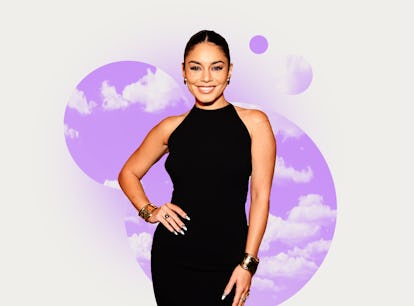 Vanessa Hudgens Is Manifesting A Healthier Work-Life Balance
Plus, why you won't catch her scrolling through TikTok.
We may receive a portion of sales if you purchase a product through a link in this article.
Vanessa Hudgens isn't just an actor, singer, and Coachella queen — she's also a savvy entrepreneur who's creating the products she's always wanted. Hudgens' cactus water brand Caliwater and skin care line KNOW Beauty often take center stage in her self-care routine, which she started to prioritize after she turned 21. Realizing her teen years were behind her, the former Disney star says she had a midlife crisis that resulted in her reassessing her priorities and focusing more on her well-being. "I've realized the importance of caring for yourself because no one's going to care for you like you do," Hudgens, now 34 years old, tells Elite Daily.
These days, she's focused on maintaining a work-life balance amid her busy schedule — and finances are one way she gets some distance between the two. "So much of my time is focused on my businesses, so I've learned the importance of separating my personal and business expenses," the High School Musical star and Amex partner says at a recent American Express Business Gold Card event in New York City.
In 2024, Hudgens says she'll be manifesting an even healthier dynamic between work and play, especially as the bride-to-be prepares to kick off her happily ever after with fiancé Cole Tucker. Below, the Downtown Owl actor shares her current self-care must-haves, her go-to fitness class, and the wellness product she bought because of an Instagram ad.
Elite Daily: You founded Caliwater in 2012 to give people a tasty alternative to water. As someone who's always on the go, what's your best tip for staying hydrated?
Vanessa Hudgens: Honestly, I just drink Caliwater. I'm the worst ever at drinking water, and I feel like I have to drink so much to be as hydrated as I'm supposed to be. If I am on the move and I have a busy day, I grab one.
ED: What's your favorite flavor currently?
VH: I'm a big prickly pear girl. It's literally the only thing I chug because it's delicious and refreshing. It's semi-sweet naturally and it's so good. I drink it first thing in the morning and last thing before bed.
ED: Wellness is clearly important to you. Are you on the wellness side of TikTok?
VH: I honestly don't scroll through TikTok because it's too much stimulation for me, but I love my fitness classes.
ED: What's your go-to fitness class right now?
VH: At the moment, it's [solidcore] because Pilates is the best way to get a long, lean body. I recently discovered it, and it's the hardest Pilates class I've ever done in my entire life. It beats me up every single time. It never gets easier, and man, it leaves you sore.
ED: After you've worked out and you're a little sore, what do you do for self-care?
VH: I just put as much Epsom salt as I have in my bath and sit there for as long as I possibly can. I'm also just a big bath girl, so I do that every day regardless.
ED: What does your typical morning routine look like?
VH: I always start with a shower unless I've taken one the night before. Even if I don't take a shower that morning, I wash my face with Biologique Recherche's anti-pollutant cleanser, tone with Caudalíe's Vinoperfect Brightening Glycolic Essence, use a serum, moisturize with Joanna Vargas Twilight Night Cream, and get some form of caffeine in. I also have a Caliwater first thing before all of that, then get my day on.
ED: Which serums are you loving right now?
VH: I rotate, but for serums, I love my lactic acid, Good Genes by Sunday Riley. I love the Biologique Recherche serum. I've got an amazing collagen serum, and I love this one by Aesop that's called B Triple C Facial Balancing Gel, which is in a little pot and is like honey. It's just packed with vitamins, and I always feel like it gives me glass skin.
Vanessa Hudgens' Skin Care Routine Includes Rotating Serums
ED: Are there any products you've bought because of Instagram or that you saw online?
VH: I'm a big sucker for Instagram ads. The last thing I purchased on Instagram was this hair care brand called Moérie. It's packed with vitamins and it's all about hair growth. My hair has actually been growing significantly since I started using it.
ED: How did you find the right skin care routine for you?
VH: Trial and error, but now I kind of have it on lock. I still have hormonal breakouts just because I'm extremely oily. I'm half Filipino and my mom is very oily as well, so things that reduce sebum are very helpful for me. And consistency is key.
I went on a trip and my fiancé was like, "You don't have to bring everything," but I do. If I don't, then I'll break out. And sure enough, I did not wash my face one night and I woke up the next morning with a whitehead. I was like, "See, this is what I mean." Even when you don't want to do it, just give yourself those three minutes to love on yourself and your future self will thank you.
Elite Daily: How do you think your self-care has changed in the last few years?
VH: Oh, my God, it's just changed so much. I used to be a face-wipe-and-go type of girl, but that changed after I turned 21. I feel like even just being in my 30s, the amount of time that I've allowed to put back into myself has grown a lot.
This interview has been condensed and edited for clarity.