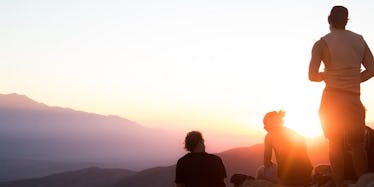 7 Fulfilling Jobs That Won't Make You Give Up Your Wanderlust In Your 20s
Cynthia Magana/Unsplash
Let's face it, most of us dream of being in a career that gives us lifelong memories and adventures, rather than water cooler talk and an unwelcoming cubicle.
At some point, though, we may have to put our dreams on hold and take that desk job we're not totally in love with.
We're told it's all part of "growing up," and we have to decide between paying the bills or exploring the globe and being broke AF.
However, that's not entirely the case at all. There are actually a lot of jobs out there that can keep your wanderlust gene more than satisfied.
If traveling is what your heart desires at this stage in your life, here are seven jobs that won't make you give up your wanderlust in your 20s.
1. Theme Park Journalist
I have a friend who made a living out of writing about theme parks for travel sites, and I'm extremely jealous of her.
As a theme park journalist, you're able to travel to all the new parks, ride every new ride, and sample new, fun food items before anyone else.
You basically get to have the time of your life writing about your epic adventures so you can help readers out on their own.
2. Summer Camp Director
If you miss the days of having a carefree summer at camp filled with nonstop activities and s'mores late at night, then maybe you should be a camp director.
What's better than living at camp all summer long? You can truly become one with nature while spending your days canoeing and swimming in the lake.
3. Zipline Guide In Alaska
My family took a cruise to Alaska, and for one of the port excursions, we went on a ziplining course in the rainforest with Alaska Canopy Adventures. It was downright beautiful and so much fun.
Our tour guides told us they work in Alaska during the summer months, leading tourists on ziplining adventures, and then go home for the rest of the year.
You're basically paid to zipline and chat with different people from all over the world every day. Don't forget, this is all while you're casually hanging out in the treetops of a gorgeous rainforest.
4. Cruise Line Entertainer
This may sound unusual to some, but just think about it -- you're working on a cruise ship, living on the high seas, exploring different ports of call, and entertaining tourists... all while making money.
5. Traveling Wedding Photographer
If you love traveling (and cake), you could be a traveling wedding photographer.
A lot of people jet off to spectacular destinations to tie the knot and need a professional photographer to join to capture all of the memories.
You get to witness true love while soaking up the beautiful landscape surrounding you. Don't forget the delicious dessert spread, too.
6. Flight Attendant
If you want to travel, there's nothing better than being a flight attendant. You're literally always going somewhere.
A few hours in the air working, and then you're in a new place you can explore before your next assignment. The best perk about being a flight attendant is, of course, the free flights.
7. Tour Guide In Europe
If you've always wanted to go to Europe but never had the means to go, a job is the perfect excuse.
A travel company like Bus2Alps is perfect for anyone in their 20s who wants to make money while also exploring Europe.
Bus2Alps is a tour operator for study abroad students who want to take weekend, day, fall break, and spring break trips to places throughout Europe.
You could be a tour guide assisting these students on their journeys while also making memories of your own.
They travel to places such as Interlaken and Prague –- which, I don't know about you, are definitely on my bucket list.
If your heart wants adventure, but your brain is saying you have to be making money, there's always a compromise.