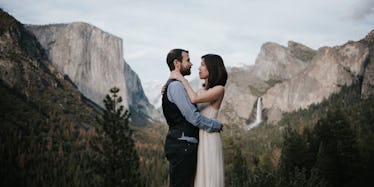 Unique Wedding Destinations Your Friends Definitely Haven't Thought Of
If you are sick and tired of going to another wedding at a boring hotel or a common local wedding venue, and it's your turn to tie the knot, it's time to think out of the box — like, very out of the box.
You have to pick a wedding spot that your friends didn't think of already.
And depending on how adventurous you are, you can pick a spot where your guests will need a passport, a boat, a pair of snow boots or even a bungee chord if they want to see you wed the love of your life.
So if you're to go all in and pick a spot that'll have your guests' jaws drop and their phones filled with the coolest pics of 2017, here are four unique wedding destinations your friends wish they thought of first.
And after all, YOGMO (you only get married once... hopefully).
The Bridal Cave
The Bridal Cave sounds exotic, but it actually doesn't require a passport to get to — just a plane ticket.
It's located near Camdenton, Missouri, in the Lakes of the Ozarks. It's an old Native American cave that can now be rented out for weddings, and it's an insanely cool backdrop for your family and friends to take photos at.
A glacier
If you're ready to go the distance, and you also don't mind a little cold weather, you may want to consider getting married next to a real glacier.
Pearson's Pond in Juneau, Alaska, is so well-known for their wedding package that they offer a venue where a couple can get married close to a nearby glacier.
Remember to bring jackets and leave your high heels at home since you may have to trek through piles of snow.
A volcano
If the cold weather isn't for you, go with a place that's the extreme opposite — a volcano.
Hawaii Volcanoes National Park offers wedding packages where you can say your vows while overlooking what they describe as the "most active" volcano in the world.
A castle
If you have always imagined your wedding to have a fairy tale feel to it, but you didn't want to do it in some generic place like your a local event hall, take your wedding to the next level and get married in a castle.
Searles Castle in New Hampshire is available to book for weddings, and having an actual castle in your photos will be quite the backdrop that any other wedding won't have.