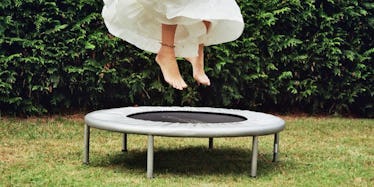 The 4 Things From Your Childhood Birthday Party You Should Use In Your Wedding
Who says your wedding has to be super traditional and super stuffy with old-school decorations that people have been having at their wedding for the last hundred years?
Hint: Nobody but you and Pinterest, and of course some wedding magazines.
But if you're in the mood to ditch what most other "grown-ups" you know had at their wedding and instead incorporate some fun into your big day, why not start with the stuff you used to love to have at your childhood birthday parties?
Here are the four things from those days that you should bring back:
1. Piñatas
Why not end the night with a giant stuffed piñata filled with candy?
It'll be a funny way for the night to end, and as long as you use a soft stick of sorts instead of a baseball bat, your guests, even the really drunk ones, won't get injured when people try to break open the piñata.
Plus, it's a great way to give people a snack to bring home with them when the night is over and they're craving a little bit more sugar.
2. Clowns
I know this seems strange, but unique entertainment is a wedding trend of 2017.
From character artists to face painters, to magicians and even fire dancers, people are accessorizing their weddings with entertainment that is Instagram-worthy and also memorable.
If you've been a fan of clowns throughout your life, hire a few to be there for your cocktail hour and have them entertain your guests while they stuff their face with appetizers and free cocktails.
3. Goody bags
Party favors are a wedding tradition that may cost you a lot of time and money to make, just for people to end up leaving them behind when the night is over.
Instead of spending thousands of dollars on expensive monogrammed bottle openers or picture frames, go with goody bags filled with fun candy, a bottle of water, chocolates, and anything else that you used to give to your friends at your birthday party as a kid.
4. Bouncy castle
What better way to end a night of dancing than with a bouncy castle outside of your wedding?
Have the DJ play music while your guests jump around and end your celebration on a high note.