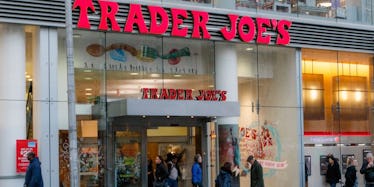 How To Incorporate Your Favorite Trader Joe's Snacks Into Your Wedding
Shutterstock
One of the things your guests will absolutely remember from you wedding was how delicious your food was.
People show up to celebrate your special day with hungry stomachs and part of your job as the couple saying "I do" is to please them with endless amounts of eats to nosh on while they spend the night at your party.
So if you're up for skipping the boring steak or fish main course meal and want to get a little creative with your choices, why not incorporate some of your favorite snacks into your wedding menu?
So how do you do that? Well, start with the food you fill your cart with at Trader Joe's every week.
Here are five of the most popular Trader Joe's snacks and how you can incorporate them on your big day:
1. Speculoos Cookie Butter
If you find yourself putting a spoonful of this cookie butter straight in your mouth on the reg, you may want to make it part of your wedding day dessert.
Ask you cake maker if they can use it as the cake filling, icing or something you put on top of a side dessert, like cookies, cupcakes or cake pops.
2. Mini Hold The Cone! Ice Cream Cones
While most people enjoy a slice of wedding cake, everybody also seems to enjoy ice cream, especially as a post-dinner dessert.
So instead of spending hundreds on professional mini ice cream cones or setting up an ice cream bar, buy packages of Trader Joes' Hold The Cones and serve them as a pregame to the main dessert, which could still be your wedding cake.
3. Mac & Cheese Bites
Skip the cocktail hour hors d'oeuvres that nobody can pronounce, and instead, serve a mixture of your favorite comfort foods, like TJ's Mac & Cheese Bites.
Buy a ton of them, give them to your caterer and have them served on a fancy tray. Nobody will know where you got them from (unless they, too, rely on these as their midnight snack).
4. Pita Crisps With Cranberries & Pumpkin Seeds
If you need an excuse to serve healthier options at your receptions, incorporate your favorite chips or crackers from TJ.
So instead of stocking each table with dinner rolls, put out baskets of these Pita Crisps favorite crisps, with different dipping options that aren't I Can't Believe It's Not Butter!
5. Corn And Chili Tomato-Less Salsa
One way to kick your party off at your cocktail hour is with different stations where guests can grab and go with different types of snacks.
Here's where you can open up a few jars of Corn And Chili Tomato-Less Salsa and create a Mexican food-themed station where people can make DIY tacos or mini burritos.