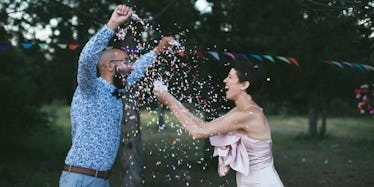 Brides-To-Be Share The 2017 Wedding Trend They're Adding To Their Big Day
Ani Dimi
Figuring out a way to make your wedding stand out from being basic can be more of a headache than anything else.
Sure, you may want to try something different, but you may not want it to be so outrageous that your guests are left wondering if they walked into a wedding or your fourth grade birthday party.
If you're looking to get with the "times" and ditch some modern traditions so your wedding looks more like it's in 2017 and less like it's happening in medieval times, take note of some of the trends these five brides-to-be are adding to their weddings this year:
1. Virtual reality
I think that wedding videos can be kind of boring and generic, and I wanted to find a way to do something different. Virtual reality is a big trend right now, so we hired a company to come and film the wedding in 360 virtual reality. That way, we'll be able to get a really freaking awesome view of our entire wedding and not miss a thing.
— Tania D., 27
2. Charitable registries
We already live together and have like every single kitchen appliance known to man. So instead of asking people to buy use a blender or coffee machine, we asked they donate money to our fav charity. It made us feel like we were doing something good in honor of our wedding.
— Lucy F., 24
3. Charging stations
Because nobody likes having a dead cellphone at a wedding, we hired a company to put phone charging stations all around our venue. We want people to do things other than be on their phone, but we also want them to have a phone to take pics and add stuff to their Snapchat story.
— Katie W., 28
4. Dogs. All the dogs.
We love our dog more than any of our friends. Sorry if that sounds rude or weird, but it's true. Our pup is our baby, and we want it to be at the wedding. Most venues we've found don't allow dogs, but we did [found] one that's going to let us have him there the whole time. We're even going to tell our guests they can bring their dogs to the wedding too. 2017 is all about dog-friendly weddings.
— Rach S., 28
5. Free food trucks
A big trend I'm seeing this year is ditching the traditional sit-down wedding meals of steak or fish and instead going with something more creative. We've decided to do food trucks only. We hired four trucks to be parked outside and guests can go out there, order what they want and eat wherever they want. We wanted a chill wedding where guests could have many picks of what to eat.
— Molly E., 25