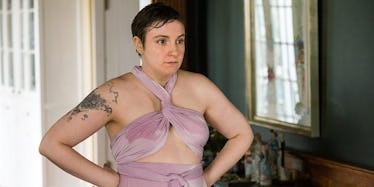 Bridesmaids Admit The Scandalous Things They Did At The Wedding And You'll Be Shocked
You'd think your girl squad of bridesmaids are the people you can trust the most when it comes to your wedding adventure, but sometimes, that's not the case.
As it turns out, your bridesmaids may actually be the ones to hit up the open bar before anyone else, flirt with the single groomsmen before anyone else and even try to snag a piece of cake before anyone else.
However, their actions on your big day can be even worse.
Check out what these six bridesmaids admit was the most scandalous thing they did at a wedding:
1. I ordered my own food.
I was a bridesmaid at my friend's wedding, and I was so hungry all day long. Finally, cocktail hour arrived, but there was, like, no food. She had a lot of wine, champagne and tiny little appetizers, but every time I tried to get one, they were gone. People were eating them faster than the venue could serve them. I honestly didn't want to wait another two hours for the main course to be served, so I ordered a large pizza. When it showed up, I got a few bridesmaids, groomsmen and even the groom to sit in the bathroom and eat it with me. The bride had no idea.
— Shara P., 23
2. I kissed the groom.
I was blackout drunk at my best friend's wedding, and I guess I went up to the groom to tell him how happy I was that my best friend met an awesome guy. Somewhere in between me trying to say that, I kissed him. Like, apparently, we made out because the next day, he texted me asking me to keep this a secret from everyone, and I did.
— Liz D., 26
3. I had my Tinder date show up.
Last year, I was the maid of honor for my college friend's wedding, and she refused to let me bring a plus-one. Like, I was so pissed because I had spent thousands of dollars being her maid of honor, and she didn't let me bring a guest to her wedding. She said it was because I had questionable taste in guys, and she didn't want me bringing a random. I was really mad about this, so I ended up telling a guy I met on Tinder the week before to meet me at the wedding. He showed up at cocktail hour and stayed the whole night. I know the bride found out, but she didn't start anything with me that night. The next morning, all hell broke loose, and we haven't spoken since her wedding.
— Terri W., 31
4. I left for half the night.
The wedding was so boring. It was my childhood friend's wedding, so I didn't know anyone, and the bridesmaids were bitches. After the ceremony, I realized I was going to awkwardly be hanging out by myself, so I snuck out and drove 30 minutes away to hang out with friends at a bar. I stayed with them for, like, two hours and then drove back to the wedding, stayed there for 30 minutes, pretended like I was there the whole time and left. I don't think the bride and groom ever found out because, to this day, they haven't said anything, and somehow, I ended up in all the good pics from the night.
— Gaby M., 27
5. I hooked up with the bartender.
I was looking for some attention and ended up hitting it off with the bartender at my friend's wedding. At, like, 11 pm, we hooked up in the bathroom. I was in my bridesmaid dress. Nobody saw this go down. It's still my secret.
— Beth N., 34
6. I stole the ring.
I wanted to piss off an ex-boyfriend, so I secretly stole the bride's wedding ring, did a whole photoshoot with it and sent the photo to my ex, saying that I was engaged. The bride didn't know I took the ring and was hysterically crying while trying to find it. I didn't admit I took it and snuck it back into the box without her looking. I finally told her I found the ring under the bed.
— Claire S., 27