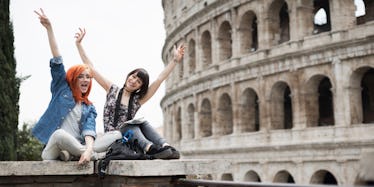 9 Things You'll Regret Not Doing Before Leaving Your Study Abroad City
Silvia Cipriani
There comes a sad time in everyone's semester abroad when you realize it's coming to a close. After spending the last few months taking in new cultures and customs, drinking and eating to your heart's content, making new friends and seeing new sights, it becomes hard to fathom the idea that this lifestyle isn't going to last forever.
You have to go back home to real life, filled with internships, classes that aren't pass-fail and open container laws. So, when it hits you that you're reaching the end of your program and you start to panic, follow these tips to make sure you make the most of your time:
1. Make your bucket list.
Chances are, you've done a ton in your city so far, but there are definitely things you've missed. Look up museums, parks, restaurants and underrated sites, and put them in a Word document. Include anything and everything, and see how much you can cross off the list before you leave.
If you're stuck, just look up your city on Google. You'll be amazed by how much you didn't know you haven't seen. I ended up crossing everywhere off my list, which not only helps me remember all the places I visited, but it will also make writing those abroad bibles for future abroad students a lot easier.
2. See all the sights (again).
Upon arrival in your city, you definitely checked out all of the main tourist sites, took your photos and moved on. At the end of your trip, use a few days to go revisit them.
You've been immersed in the city for three months now, and you know much more than you did originally. You'll be able to appreciate them in a different way, so go enjoy them one more time before you head home.
3. Eat out, and eat everything.
It's easy to fall into a rut and cook your own meals while abroad, especially since it saves money. But almost everyone I've talked to who has gone abroad before me has said their biggest regret is not eating out more.
Put more restaurants on your bucket list, and eat at as many new ones as possible. My friends and I started trying one new restaurant per week, and it has made all the difference. Use these opportunities to try dishes you might not have before, as well as to enjoy some of your city's favorites.
4. Learn to cook traditional dishes.
A huge part of another country's culture is its food. Studying in Rome, there are four pasta dishes that are considered specialties. There's no doubt in my mind that I'm going to want to eat when I'm back home. Learning how to make at least one of these signature dishes is really important, not only so I can enjoy it in the future, but also so I can understand a deeper part of the Roman culture through actually cooking it myself.
So, find a recipe online, and learn to make one of your city's favorite dishes. Bonus points if you have native friends from the city who can teach you one of their families' recipes.
5. Hit the bars.
Along the same lines of the restaurant tip, make sure you try any nightclubs and bars you haven't hit yet. It's important to go to your favorites again before you leave, but chances are, you've been traveling to other countries on a lot of your weekends. Asa result, you've been tending to stick to the same places while you're home.
You want to make sure you experience all of the nightlife your city has to offer, so it's not a bad idea to try some new places. Don't just go to the American bars. There'll be plenty of those when you get home.
6. Buy gifts and souvenirs.
If you've been slacking on gifts for your family and friends, now's the time. Get shopping. On the other hand, if there was anything you've been meaning to get for yourself as a memento of your city, you should also make that a priority. If you see something you like, you might as well buy it. You don't know if or when you'll make it back there before you leave.
7. Write things down, and get organized.
We all say we're going to keep a journal while abroad, but things get hectic and you fall behind. If you find yourself on a long train ride or with some extra free time, try to write down as much as you can. You'll thank yourself in the long run. If you were planning on making a scrapbook when you got home, now is also the time to start organizing all your tickets and bus passes.
8. Explore nearby areas.
With only a short time left, it's important to stay in your city. I wouldn't recommend planning any trips out of the area for your last weekends. However, chances are, there are some cool spots nearby you could check out. Grab some friends, find some nearby beaches or gardens or go on a hike.
9. Say yes.
Before you know it, you're going to be on a long plane ride home. You can sleep then. Take advantage of every experience you can, and say yes as much as possible. Roommates are going out to dinner? Say yes. Someone wants to go hang out and grab a drink? Say yes. Don't just sit in your room. Go out and see things.
Spend your last few weeks taking photos, taking risks and making memories. Enjoy the time you have left with your new friends, and take in as much of your city as you can. As clichéd as it sounds, you need to be making your moments count, instead of counting the moments you have left.