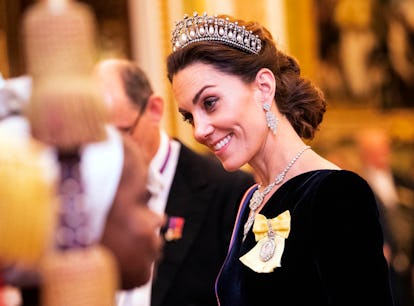 Kate Middleton's Fashion Evolution Goes From Flirty To Royalty
She's been serving looks since the early aughts.
WPA Pool/Getty Images Entertainment/Getty Images
Kate Middleton's evolution from university student to working girl to Duchess of Cambridge and then Princess of Wales has been a thing of beauty. As the future queen's influence and prestige have grown, so has her sense of style. While she's always known how to put a 'fit together, Middleton has experienced quite the fashion evolution since she first stepped into the public eye in the early '00s.
When Princess Kate and Prince William began their relationship in 2001, Middleton's looks were the physical embodiment of Y2K fashion. From low-rise denim and sequined halter tops to Parisian berets and leg warmers, the future royal's outfits were eccentric, fun, and reflective of the time period.
Post-uni, Middleton became best known for her polished sets and formal fascinators, but it wasn't until she officially became a member of the royal family that the princess's style became synonymous with elegance. You could say that royal fashion protocol has played a role in shaping her tastes, but Middleton's style has more depth than a pastel two-piece and matching hat. In fact, the Princess of Wales has managed to elevate her personal tastes to the exacting level of royal fashion expectations.
From vintage looks inspired by her late mother-in-law, Princess Diana, herself a major fashion icon, to modern monochromatic moments, Middleton has created a royal wardrobe that's all her own. From her university days to now, here's a look at how Kate Middleton's fashion has evolved over the past two decades as seen through some of her most iconic fashion moments.
After nearly two decades of being blessed with Kate Middleton's fashion sense, can it get any better?