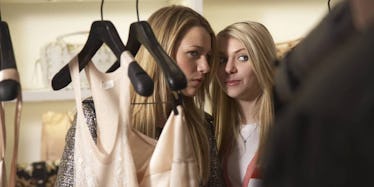 9 Fashion Moments From 'Gossip Girl' That Are Too New York To Function
Warner Bros. Television Distribution
It may have ended in 2012, but the fashion of "Gossip Girl" lives on (thanks to both Netflix and Blake Lively's own killer style). Set in the heart of Manhattan's Upper East Side, the dramatic series lived up to its setting. Each character had his and her own unique personality, and with it, a style to match.
The success of the show paired with costume designer Eric Daman's eye (also known for "Sex And The City") equaled iconic fashion moments that made "Gossip Girl" authentic and timeless. It's nearly impossible to narrow it down to a list of the greatest stylish flashbacks, but each season definitely had its highlights.
9. Season 1, Episode 8
For Blair's 17th birthday party, Serena opted for the "I woke up like this" T-shirt dress look, which set the stage for Serena's effortless style throughout the show. Her tousled locks, minimal makeup and a comfortable frock still made her look put together. All hail Queen S.
8. Season 3, Episode 10
Nothing screams chic style more than an all black outfit and Chanel, as seen in this Blair Waldorf look. The poncho, neck scarf, beret and pumps might sound like there's too much going on, but Blair always looked put-together and classic.
7. Season 4, Episode 8
The parties in "Gossip Girl" were next level, so of course, the bar was raised for the gowns. Vanessa, the bohemian, funky fashionista of the series, brought out her elegant side with this Christian Cota dress, while Serena looked red-carpet ready in a Zuhair Murad number. Both looks made us all drool with major wardrobe envy.
6. Season 1, Episode 4
You can't leave out Chuck Bass' infamous basketball get-up because, well, it happened. Yes, it's ridiculous, but he's Chuck Bass, so it kind of works. Also, it's a moment in "Gossip Girl" history that defined what the show was all about: taking risks in fashion.
5. Season 2, Episode 1
The visuals in the premiere of the second season were stunning, as the backdrop was a classic Hamptons white party. This episode was one to remember, as it featured Serena's Greek goddess look, Chuck's tailored white suit, Nate's preppy style, Blair's feminine frock and Dan's laid-back look.
4. Season 4, Episode 2
What's more "Gossip Girl" than the city of Paris, a Chuck and Blair reunion and, of course, that red dress? Who can forget that red dress? Nothing says "meet up with your ex" more than dressing like a royal princess (which, let's not forget, she almost was).
3. Season 2, Episode 20
Jenny Humphrey's style was a bit all over the place, but that's also one of the reasons it was so noted. Fashion doesn't follow rules, and Jenny's lookbook definitely didn't, either.
She rocked feminine, edgy, rock 'n' roll, trendy and runway looks, and she sometimes did them all at once. Her look here could still be worn today, which says a lot considering it was for a sweet 16 party.
2. Season 5, Episode 9
If you're looking for an excuse to dress like a disco icon for your next Halloween costume, this is it. Serena slays the '70s glam look, making us want to bring out the inner diva in all of us, Halloween or not.
1. The Series Finale
The series finale had the most iconic fashion moment because both Serena and Blair got married. Blair sparkled in a blue Elie Saab gown, while Serena looked fashion forward in Georges Chakra. "Gossip Girl" went out in true "Gossip Girl" form, reminding us who reigns as the fictional queens of fashion.
The CW hit may be off the air, but the style of "Gossip Girl" remains etched in our minds. Some days, you just want to dress like a Manhattan socialite. So, where else would you turn to for inspiration other than the dramatic series that had us fawning from the first time we heard "XOXO?"