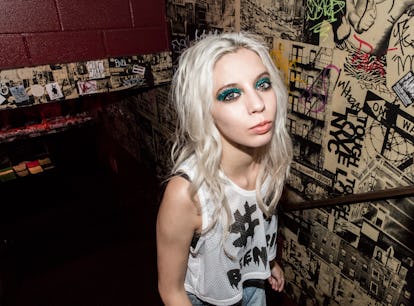 These Last-Minute Halloween Makeup Looks Are The Only Costume You Need
Get ready for some throwbacks.
Nycretoucher/DigitalVision/Getty Images
From sexy skeletons to bold, dramatic '80s glam, Halloween is the perfect time for aspiring makeup artists to test out their most outrageous beauty looks and display their makeup skills with a spooky selfie. With so much likely already going on in your life, makeup-heavy Halloween looks, according to MAC Cosmetics Senior National Artist Victor Cembellin, are a trendy, easy way to deep dive into the holiday festivities, as opposed to spending an obscene amount of money on a costume. "With makeup-based costumes, most looks can be achieved with products in your makeup closet," he tells Elite Daily.
But where do you draw inspiration for your costume? And what if you're not a makeup prodigy? That's where easy Halloween makeup ideas that'll still steal the show come in handy. Cembellin encourages you to take advantage of step-by-step Halloween makeup tutorials that are readily available on platforms like Instagram, TikTok, and YouTube. "These platforms can be wonderful resources for people who are new to creating elaborate makeup designs."
With the help of Cembellin, I've compiled a list of the coolest and easiest Halloween makeup tutorials that you can try at home. Beware: You might just leave your fellow Halloween lovers in shock and awe of your talents.