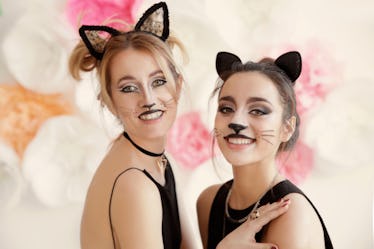 Bookmark These Easy Cat Makeup Tutorials For Halloween Right Meow
Shutterstock
When it comes to Halloween, there's one costume that you can always come back to year after year, like your favorite food or your comfort blanket: a cat. You can be a cute cat, a sensual cat, a big cat, or something entirely of your own design. While it's not a very hard costume to put together, making it ideal for the Halloween procrastinators out there, what will really make your cat stand out of the litter is some impressive cat makeup.
Everyone's been invited to a Halloween party with very little time to prepare. When that happens, you have no choice but to grab whatever you can find in your closet and figure it out. That's when having some cool cat Halloween makeup skills come in handy, especially since you can toss on pretty much any all-black outfit and call it a look. With one of these tutorials in your back pocket, you'll never have to feel the last-minute Halloween costume stress again.
These cat makeup tutorials for Halloween span from something you can pull off in five minutes to looks that may take the better part of an hour. You may even want to dress as a cat for every Halloween event, just to be able to do as many of these cat makeup looks as possible.
You'll look absolutely purrrfect this Halloween with one of these cat makeup tutorials in your bookmarks.