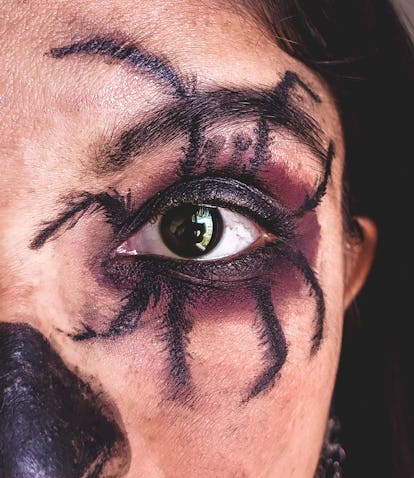 I'm Low-Key Scared Just Looking At These Halloween Eye Makeup Ideas
These looks are bloody sick.
Yashvi Jethi / EyeEm/EyeEm/Getty Images
The best part about Halloween is freely being able to dress the way you want to dress during the other 364 days of the year. (Is that just me?) I can't help but love an over-lined eye, all-black everything, and random glitter on my face for no reason. And on Halloween, I can truly let my freak flag fly without having to explain it to anyone. Whenever I choose a Halloween eye makeup look, I always do something that will stand out from the crowd and make sure that my peepers truly pop.
There are so many different Halloween makeup looks you can do that require little to no makeup skills. Trust me, if you can draw a semi-straight line or a circle, you can complete most of these looks, so don't let them intimidate you. Plus, if you find you can't achieve a look exactly the way the makeup artist did, all the better — find a way to make it your own. The looks don't have to be exactly the same to convey a spooky message. With these 10 Halloween eye makeup ideas as your guide, grab some liquid eyeliner, find your bedroom's best lighting, and get ready to play up your eyes with some seriously spooky looks.