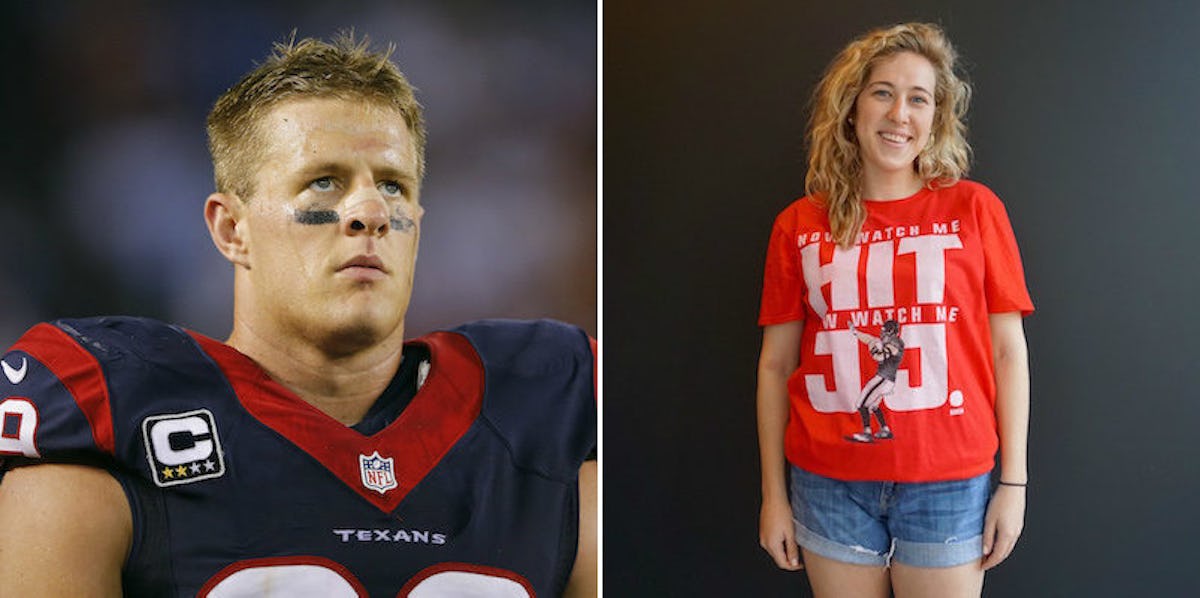 I'm Flying Nearly 1,500 Miles To Ask JJ Watt On A Date
REUTERS/Kylah Benes-Trapp
I have a very specific type: blonde, tall and ambitious.
My type is JJ Watt.
I also have no chill.
Yep, I've been tweeting at the Texans defensive end and writing articles about him for a little over a year now.
I made sure the Elite Daily readers were updated when he posed with a baby, when he took his shirt off and when he wished us a happy Valentine's Day.
I even took the time to explain to the masses what exactly makes JJ Watt so charming and irresistible.
He has never once responded or even acknowledged my attempts with a favorite, like or retweet.
I'm not someone who accepts failure (or a hint, clearly) easily, so I decided I needed to take this to the next level.
On Friday, I'm hopping on a flight from New York City to Houston, Texas with just one purpose: meeting the 6'5" legend in person at the 2016 JJ Watt Charity Classic.
Like I said, no chill.
Every year, the JJ Watt Foundation puts on a softball game in order to raise money for after-school athletic programs for middle schoolers and provide the "opportunity for kids to be kids."
This year, the game will be held at Minute Maid Park in Houston, just a short walk from the Airbnb I booked for the weekend.
Beginning around 6 pm on Saturday, JJ and his fellow Texans will take the field, and fans from across the country will fill the stands, hoping for a great game, a selfie or hug from JJ himself.
I, on the other hand, have another plan. Although a selfie or a hug would be nice, I need more. I need to hang out with JJ.
To make that a reality -- as I was politely declined a one-on-one interview with him (twice) -- I'm going to ask him on a date.
Luckily, I have media credentials and will be at the press conferences before and after the game. I have no idea how many other media outlets will be there or even how long JJ has to answer questions.
But I have to make it happen.
I know it seems crazy, unbelievable, impossible, even. My co-workers hardly have any faith in me.
But I believe in me.
And in the words of JJ himself,
Dream big.
I'll be live-tweeting my journey, so follow me on Twitter or continue to check back on Elite Daily for updates on my quest.
Fingers crossed he won't have filed a restraining order against me by the time I reach Texas.
All joking aside, the JJ Watt Foundation is a great organization. If you can't make it to the game this weekend, feel free to donate if you can. It's for the kids.