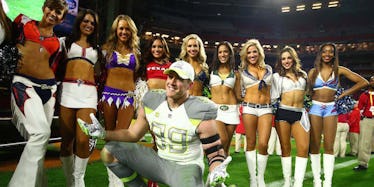 Attention, Men: This Is The Real Reason Women Love JJ Watt
USA TODAY Sports/Mark J. Rebilas
I can tell you right now I don't know much about professional football, or football in general.
I don't know anything about divisions, plays, positions or calls. I find statistics, recaps and the Super Bowl absolutely mind-numbing. Heck, I've never even watched an entire football game.
But if someone mentions the Houston Texans or even just the NFL, you can bet the name JJ Watt, who turns 27 today, will come right out of my mouth.
I truly think he is the perfect man. And I'm not alone.
One day -- probably after hearing another pathetic, desperate plea about getting Watt to visit the Elite Daily office -- one of my co-workers asked me something I could barely answer at the time:
What is it about JJ Watt that makes him so special?
What makes him so different than any other blonde, 6'5", 289-pound NFL star?
Well, after some thinking and an intense scroll through JJ's Instagram, I realized my answer was along the lines of a tweet writer Chelsea Fagan posted a while ago.
Replace Jake Gyllenhaal with JJ, and there you go. Every woman, myself included, thinks she could potentially date the Texans' defensive end. He's seemingly obtainable. He's different. He's the everyman.
He's also easily one of the most recognizable faces in the NFL, a Defensive Player of the Year and a Pro Bowler...
So just bear with me here.
There are certain characteristics that work together to create this particular "everyman" persona. And JJ Watt has every single one of them.
First off, he's from a small town.
The appeal of a small-town guy is all about being relatable. JJ might wake up every day and flip tires, but he also went to a public high school and had a part-time job as a pizza delivery boy.
He's single.
This is crucial: The jock is usually the popular kid who dates the pretty, popular cheerleader. Sure, movies always portray the jock eventually falling in love with the "nerdy" girl, but that never happens. The nerdy girl doesn't date anyone.
(She suffers through four years of high school misery, goes to a good college and eventually realizes being smart is a great thing.)
Some of the fascination will be gone forever the moment JJ is seen with a Cowboys cheerleader.
But he's not a playboy.
JJ Watt is not Leonardo DiCaprio. News headlines about JJ are about his work ethic, his charitable actions and his record-breaking stats; people don't write articles about him being linked to model after model.
Dating someone famous seems way more possible when we don't have to compete with the Suki Waterhouses, Gisele Bündchens and Gigi Hadids of the world.
He's good with kids (but doesn't have any of his own).
I don't want kids. I don't want them right now. I might not want them in the next five years. I'm not sure if I want them ever. But that doesn't mean I can't appreciate a man who can put a smile on a child's face.
I guess it has something to do with evolution and biology.
He loves his family.
There is nothing more heartwarming than a feel-good family story -- or JJ posting proud Instagrams of his brothers, TJ and Derek.
He's hot, but not Bradley Cooper hot.
I know for a fact Bradley Cooper wouldn't give me a second glance if we were ever in the same room.
But that isn't JJ. He'd be the guy at the frat party walking the way-too-drunk girl home and not making a single move.
He knows how to treat women.
If a man opens doors and treats his mom well, he's a keeper.
So JJ, if you're reading this, I hoped you enjoyed it, and happy birthday.