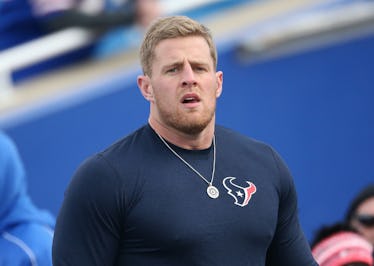 JJ Watt Is Actually The Biggest Playboy In The NFL
Tom Szczerbowski/Getty Images Sport/Getty Images
JJ Watt is that dude.
Not only does he consistently prove hard work pays off, but he's also proved you don't have to be thirsting over these girls to pull them.
It doesn't hurt that he's 6'5", almost 300 pounds of straight brolic and worth $100 million but still, he's not worried about these... you know.
His approach to the game on and off the field is exactly what the women want and they've been flocking to him ever since.
You have to respect JJ Watt because he's a "quality" guy and knows he's worked too hard to be messing with anything but the top of the shelf. That mindset has paid him dividends.
Most recently, Tiffani Thiessen, who played Kelly Kapowski in "Saved By The Bell," sent this out to JJ.
Not even JJ could believe it. Who didn't have a crush on her in the 90s?
And don't forget about the time he met his all-time biggest crush, Jennifer Aniston.
Or when he was just "hanging out" with Zooey Deschanel.
And you'd better believe Eva Longoria is familiar with JJ Watt.
But what about when Playboy model Lindsey Pelas told JJ Watt to slide in her DMs? Sheesh!
JJ Watt was actually cuffing tennis star Caroline Wozniacki for a little, but that didn't work out.
He even got a shot with Britney motherf*cking Spears!
USA soccer star Sydney Leroux was definitely dating JJ at one point and visited him at the Pro Bowl in Hawaii.
Katy Perry got to know JJ Watt during this ESPN photo shoot. You tell me if he bagged.
But at the end of the day, there are only two girls who matter to JJ. One is his mama...
...and the other is his grandmother, who just turned 98.
Sorry, Katy Perry!