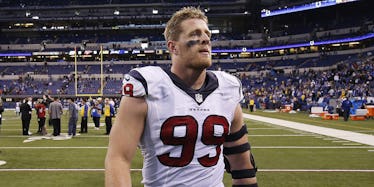 This Photo Of JJ Watt, A Baby And A Dog Will Make Your Ovaries Explode
USA Today Sports
There's no denying it: I am 100 percent on that JJ Watt beat.
I write about his shirtless selfies, his Valentine's Day and the reason women love him so much.
I also tweet about him pretty regularly, although he has yet to respond.
.@JJWatt, you inspired today's workout pic.twitter.com/crXFHqnSi4 — Lydia Mansel (@lydiamansel) March 13, 2016
Anyway... This time, I'm bringing you the best JJ Watt story I have ever covered.
JJ Watt + a baby + a dog.
Are your ovaries OK??? Are you still breathing??? Did you faint yet???
OK, get it together. You haven't finished reading this article.
His caption reads,
Special moment. First time getting to meet Jaxson, the second child of two of my oldest and best friends. Could not be happier for them and am very thankful to be able to experience moments like this!
JJ, I'm thankful for moments like this, too.