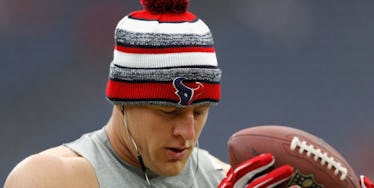 JJ Watt Says He'll Be Your Valentine This Year
Getty Images
Need a valentine this year? JJ Watt says he'll be yours.
I know, it's a lot to take in right now. Just breathe.
Yes, the NFL's most eligible bachelor (a title I just gave him) wants the world to know he's thinking of each and every one of the "single ladies" today.
So cute, JJ. I'll be anxiously awaiting the flowers and chocolates you send to my apartment.
This morning, the star defensive end shared his sweet, sweet message on Twitter, Instagram AND Facebook. He must really love February 14.
JJ Watt says we're all "beautiful," so it has to be true.
Wow, JJ, this is true love.
Happy Valentine's Day, JJ!
Happy Valentine's Day to all of the beautiful women out there! I will shamelessly volunteer as tribute to be a Valentine to all the single ladies! Posted by JJ Watt on Sunday, February 14, 2016
Call me.