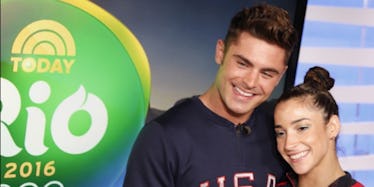 Aly Raisman Asked Zac Efron On A Date And We're Worried About Simone Biles
By now, everybody knows Simone Biles has a huge crush on Zac Efron.
I mean, who doesn't?
Biles even has a life-size cutout of Efron in her bedroom. This crush is so real.
Biles made history this week at the Rio Olympics, becoming the first American female gymnast to win four gold medals in a single Olympic Games. She also got a bronze, just for fun. Biles is now the most decorated gymnast in American history. It's casual.
On top of all that incredible athletic prowess, Biles is a 19-year-old girl. She and her teammates may be serious while competing, but as soon as they step off the mat, they're back to being teenagers and young women.
So, yeah, Biles has a huge crush on Efron and is really funny about it, like many teen girls around the world.
Initially, Efton was slow in his response to her undying love.
But then, after she and teammate Aly Raisman finished competing on Tuesday, Efron showed up in Rio and surprised the Final Five.
It was epic, and Biles freaked out appropriately.
Raisman and Biles spoke about Efron's visit with Bob Costas on Wednesday night. They watched the video where they first met Efron, which shows teammate Laurie Hernandez hugged him first.
Raisman said,
Oh, Laurie hugged him first! You going to kill her?
To which Biles grins and shouts back,
Yes!
Now, Biles might have to add another teammate to her hit list. Even though she knew Biles has a long-standing massive crush on him, Raisman asked Efron out to pizza on Twitter.
Efron responded:
Tomorrow! Dibs on pepperoni https://t.co/7fPV4YJJ8l — Zac Efron (@ZacEfron) August 17, 2016
Daaaaaamn, Raisman!
In all seriousness, the girls did have noted plans to get pizza with Efron. Raisman told Costas,
He said we could eat pizza with him, too. So we're gonna eat pizza with him. And french fries.
Girl has seriously got her priorities straight. Raisman went on to say,
We're gonna also teach [Efron] ... He wanted to learn a backflip. And we said we're going to work out with him.
In any case, Biles can't be too mad at Raisman. After all, she already has a few boys on hand.
She had a non-boyfriend this spring with whom she had a 140 day Snapchat streak (haven't we all?), according to a New Yorker profile.
Biles also has her "Brazilian boyfriend," gymnast Arthur Nory Mariano.
And if they aren't enough to comfort Biles, I'm sure her five Olympic medals will help.
Citations: Team USA, NBC, Refinery29, New Yorker, PEOPLE