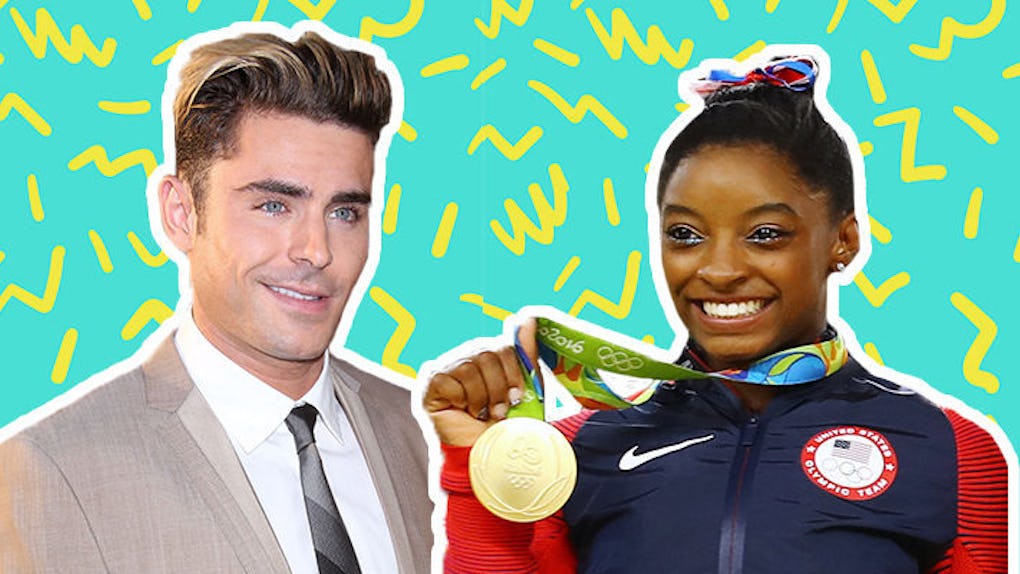 REUTERS /REX/Shutterstock
Zac Efron's Response To Simone Bile's Crush On Him Is The Lamest Thing Ever
Besides dominating in just about every facet of gymnastics possible, Simone Biles has another obsession: Zac Efron.
That's right, the 19-year-old gymnast has the biggest crush on the former "High School Musical" star — like, a really big one.
How serious is that crush? So serious that Biles keeps a cardboard cutout of Efron at her home in Texas.
hi @ZacEfron merry christmas to me pic.twitter.com/mXOtlfd3x2 — Simone Biles (@Simone_Biles) December 25, 2014
Her love for Zac is so well-known that Ellen DeGeneres gifted her an Efron-themed leotard.
CAN I PLS PLS WEAR MY ZAC EFRON LEO TO P&G's @ZacEfron thanks @TheEllenShow for having me! pic.twitter.com/h8TmhoQqh7 — Simone Biles (@Simone_Biles) March 8, 2016
Safe to say, Simone is a big fan of his, and as she became more and more well-known around the country, it became more and more likely that Zac would respond (after all, you can't just ignore the fact that you have a famous fan).
Well, the responses from Zac have indeed been coming in, like that time he wished her good luck and almost made her "pass out."
@ZacEfron@TheEllenShow OH MY GOSH I THINK I AM GOING TO PASS OUT OH MY GOSH CRYING! THANK YOU — Simone Biles (@Simone_Biles) July 8, 2016
Or on Monday, when he just threw praises at her skills.
But nothing beats what he tweeted on Wednesday night. It was the sappiest response of them all.
Of course I'm watching the #FinalFive dominate the floor!#Rio2016 #TeamUSA pic.twitter.com/wdgVnvWOCa — Zac Efron (@ZacEfron) August 10, 2016
The heart symbol, though? Really? Can't help but label this one a lame move. Cute? Maybe. But lame all the same.
And if anything, this whole crush back and forth reminds us of two, very easy-to-forget facts: One, Simone Biles is young as hell. And, two, Zac Efron is still corny.
But, hey, it works for him.
Citations: CNN