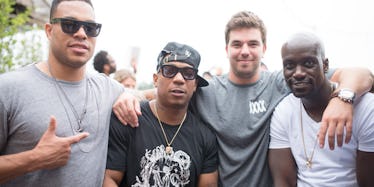 "Authentic" Fyre Festival Merchandise Is Available On eBay For Absurd Prices
McGaw/ BFA/ REX/ Shutterstock
It's hard to imagine what life was like before Ja Rule scammed the world (well, he says otherwise) into thinking Fyre Festival was going to be the Caribbean's version of Coachella. LOL.
You may remember when social media had a field day with the non-event.
Stranded attendees who shelled out thousands of dollars for access to the "festivities"  documented the hazardous conditions while the rest of us refreshed Twitter in horror. (I'm still not over it.)
And now, in the wake of an FBI investigation and countless lawsuits against Fyre Festival, people are listing their authentic merchandise on eBay.
Unsurprisingly, what was once simply branded merchandise is selling at a high price point. It's memorabilia, y'all, and the world is here to buy it.
Let's walk through eBay's Fyre Festival search results.
A Yellow Hoody, Size Large
Someone already purchased this brand new, snuggly gem back in May for a mere $300.
It was still in the packaging, protected from all the BS. What a find!
A Fyre Festival Weekend 1 Artist Pass
The seller notes on this already-sold listing make it seem super authentic: "Infamous Fyre Festival —  authentic memorabilia [sic] — worn on site weekend 1."
(I almost forgot there was supposed to be another weekend, to be honest.)
Could we say the distressed pattern foreshadowed what was to come?
A Branded External Battery Pack
As I'm writing this, the bidding for a "branded" external battery pack is ongoing. The seller notes mention that there is "no box" for it.
I kind of want it.
An "Authentic" Fyre Festival Dad Hat
With a little less than a week to go before the bidding ends on this hat, I'd say the seller is bound to get well over the current $55 for the "rare merchandise."
You could say it's Fyre.
This is potentially just the beginning of the Fyre Festival eBay revival. Once other attendees catch wind of the absurd prices people are paying for the merch, they might start adding theirs to the auction site, too.
If (or, when) they do, I'll be watching.