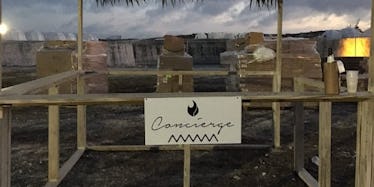 What Fyre Festival Was Really Like, According To One Employee
Twitter
People are leaving Fyre Festival in droves, and at least one former employee is not surprised. Chloe Gordon arrived on the island of Great Exuma to work as a talent producer in March and quit after four chaotic days.
Attendees shelled out up to $250,000 for the disastrous event, and Gordon has penned a scathing tell-all for New York Magazine that explains why she knew Fyre Festival was doomed from day one.
The festival was marketed as a luxury retreat for elite millennials, who would spend their time listening to top artists, enjoying gourmet food, and mingling with "influencers" and models.
Gordon, who arrived on the island six weeks ago to work as a talented producer, describes a scene that was far from paradise. Rather, it was gravel-covered development lot.
"There was not enough space to build all the tents and green rooms they would need. There was not a long, beautiful beach populated by swimming pigs," she writes. "There were, however, a lot of sand flies that left me looking like I had smallpox."
Gordon writes that, although she and her team had been led to believe that "things had been in motion for a while," that was far from the truth. Vendors hadn't been booked, transportation hadn't been arranged, and even a stage hadn't been rented.
As she began to contact the booked artists' managers, they all had the same question: when would they receive the money they were owed? Yikes.
When Ja Rule touched down on the island, Gordon writes that (as evidenced by his Instagram feed) the festival's founder spent most of his time on a yacht. He did spend enough time with the employees to deliver a toast. Gordon quotes him as saying: "To living like movie stars, partying like rock stars, and f*cking like porn stars."
By the time she arrived in Miami to meet with still-unpaid artists, Gordon couldn't help but see the humor in the situation. "This whole thing was playing out as a hilarious disaster," she writes. "It was clear to most of us that nothing was going to come together at this rate."
By the end of the week, members of the production team were fired — Gordon was "spared," but she wisely booked a flight back to New York and "waited eagerly for six weeks to see how Fyre Festival would play out."
Spoiler alert — it played out like a total nightmare.
"Not one thing that was promised on the website was delivered," Shivi Kumar, 33, told The New York Times. "Instead of the four king size beds and luxury lounge accommodations they'd paid for, Kumar and her friends were directed to tents.
"People were stealing beds out of other tents," Kumar continued. "It was just chaos. Nobody ever came in to check us in to our accommodations, if you can call it that, so they had no idea who was there and who wasn't."
As of Friday morning, inbound flights had been cancelled and organizers were scrambling to arrange charter jets to Miami for the Fyre Festival attendees who are already on the island. Ja Rule posted an apology to Twitter, in which he promised to "[make] it right" and ensure that everyone was refunded.
Meanwhile, the festival's co-organizer Billy McFarland described Friday as "the worst day of my life" in a column for Rolling Stone.
"We were a little naïve in thinking for the first time we could do this ourselves. Next year, we will definitely start earlier," McFarland said.
Yes, apparently McFarland plans to attempt this feat again next year. Something tells us he won't be able to give tickets away after this year's debacle.
Citations: I Worked at Fyre Festival. It Was Always Going to Be a Disaster. (New York Magazine), Fyre Festival, a Luxury Music Weekend, Crumbles in the Bahamas (The New York Times), Fyre Festival Head Billy McFarland: 'We Were a Little Naive' (Rolling Stone)