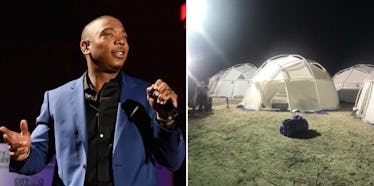 Ja Rule Reacts To 'Not A Scam' Fyre Festival Failure: 'This Is Not My Fault'
Getty Images/Twitter
Partygoers were sorely disappointed when they arrived at Fyre Festival in the Bahamas on Thursday night.
The "luxurious" getaway turned out to be a total nightmare, and people were faced with incomplete tents, tiny food rations, stray dogs and disarray.
The festival was co-organized by Ja Rule and promoted by models like Hailey Baldwin and Bella Hadid, so people expected a bougie getaway complete with music, booze and glam.
When they arrived, they were stranded in unsafe territory and hoped for a flight back home.
As chaos at the festival broke out, people used to Twitter to share horrifying photos of the campsite. Soon enough, the nation saw how terribly unorganized the event actually was.
Ja Rule, rapper and co-organizer of the festival, finally commented on the "heartbreaking" craze that took place in the Bahamas.
He tweeted a public apology on Friday afternoon and claimed the festival was "not a scam" like everyone thought it was.
His entire comment says,
We are working right now on getting everyone off the island SAFE that is my immediate concern... I will make a statement soon I'm heartbroken at this moment my partners and I wanted this to be an amazing event it was NOT A SCAM as everyone is reporting I don't know how everything went so left but I'm working to make it right by making sure everyone is refunded... I truly apologize as this is NOT MY FAULT... but I'm taking responsibility I'm deeply sorry to everyone who was inconvenienced by this...
Of course, some people were skeptical and wondered why he wasn't at the festival with everyone else.
I suppose we'll have to wait for Ja Rule's official statement to find out what the heck really happened at Fyre Festival.
In the meantime, let's just be thankful we weren't stranded there.